»

Recipes

»

Tilapia

»

Oven Fried Tilapia
Oven Fried Tilapia Recipe
Oven Fried Tilapia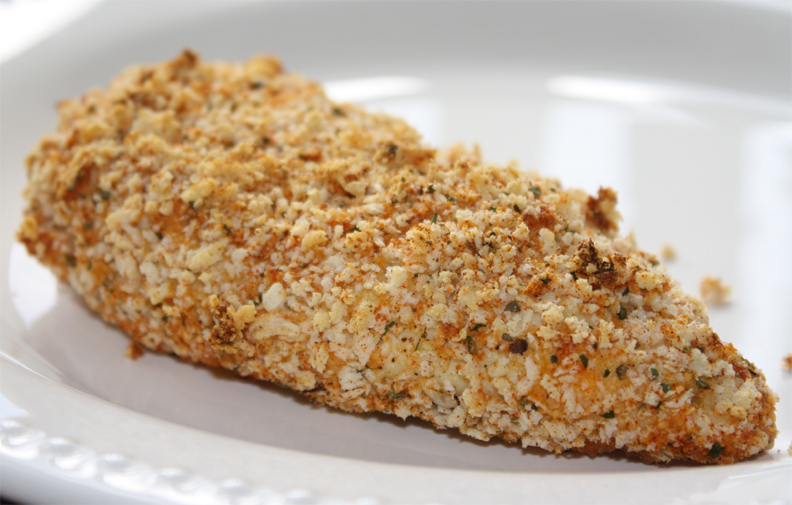 Ingredients
For seasoning mix

Salt

1 Teaspoon

Sweet paprika

3⁄4 Teaspoon

Onion powder

3⁄4 Teaspoon

Dry mustard

3⁄4 Teaspoon

Garlic powder

1⁄2 Teaspoon

White pepper

1⁄2 Teaspoon

Ground cumin

1⁄2 Teaspoon

Dried sweet basil

1⁄2 Teaspoon

Dried oregano leaves

1⁄2 Teaspoon

Black pepper

1⁄4 Teaspoon

Dried thyme leaves

1⁄4 Teaspoon

Tilapia fillets

20 Ounce

(4 Fresh Fillets, 4 To 5 Ounce Each)

Toasted bread crumbs

1⁄2 Cup (8 tbs)

Finely chopped fresh parsley

2 Tablespoon

Finely sliced green onions

3 Tablespoon

Olive oil

1 Tablespoon
Nutrition Facts
Serving size: Complete recipe
Calories 768 Calories from Fat 272
% Daily Value*
Total Fat 29 g45.3%
Saturated Fat 7.3 g36.3%
Trans Fat 0 g
Cholesterol 200 mg
Sodium 2453.2 mg102.2%
Total Carbohydrates 27 g9.1%
Dietary Fiber 7.6 g30.4%
Sugars 4.3 g
Protein 106 g211.7%
Vitamin A 95.7% Vitamin C 117.7%
Calcium 26.8% Iron 48.1%
*Based on a 2000 Calorie diet
Directions
Combine the seasoning mix ingredients in a small bowl.
Sprinkle all surfaces of the fish evenly with 4 teaspoons of the seasoning mix.
Preheat the oven to 450°.
Combine the bread crumbs, parsley, green onions, and remaining seasoning mix in a bowl.
Add the oil and mix it in with your fingers until the crumbs are moist.
Place the fish fillets, one at a time, in the bowl of bread crumb mixture and press down gently on each side.
Shake off any excess crumbs.
Place the seasoned fish on a nonstick baking sheet, presentation side up, and cook 6 minutes.
Turn the fish over and cook 4 minutes.
Turn the fillets again and cook until done, about 4 minutes more.
Serve immediately.