»

Recipes

»

Chicken

»

Oven Fried Chicken
Oven Fried Chicken Recipe
This oven fried chicken is a healthy yet delicious crusty chicken recipe. Breaded with a cheesy coating and flavored with a hint of garlic, the oven fried chicken is best served with grilled vegetable salad with a sauce of choice.
Golden Oven Fried Chicken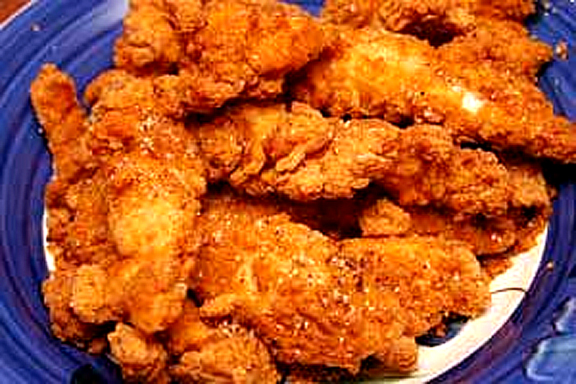 Ingredients
Dry breadcrumbs

1 Cup (16 tbs)

Parmesan cheese

1⁄4 Cup (4 tbs)

, grated

Salt

3⁄4 Teaspoon

Garlic powder

1⁄4 Teaspoon

Pepper

1⁄4 Teaspoon

Broiler fryer

3 Pound

, cut up and skinned

Butter/Margarine

1⁄2 Cup (8 tbs)

, melted
Nutrition Facts
Serving size: Complete recipe
Calories 4474 Calories from Fat 2777
% Daily Value*
Total Fat 311 g477.9%
Saturated Fat 122.3 g611.3%
Trans Fat 0 g
Cholesterol 1279.4 mg
Sodium 4464.6 mg186%
Total Carbohydrates 123 g41.1%
Dietary Fiber 5.9 g23.7%
Sugars 11 g
Protein 282 g563.2%
Vitamin A 96.3% Vitamin C 36.7%
Calcium 83.7% Iron 119.4%
*Based on a 2000 Calorie diet
Directions
Combine first 5 ingredients.
Dip chicken in butter, and dredge in bread crumb mixture.
Place in a greased 12 x 8 x 2 inch baking dish.
Bake at 350° for 1 hour or until tender.