»

Recipes

»

Rabbit

»

Oven Barbecued Rabbit
Oven Barbecued Rabbit Recipe
Oven Barbecued Rabbit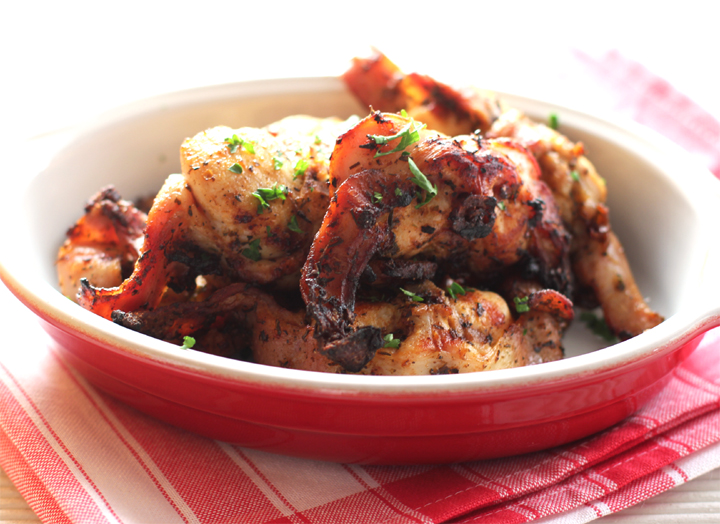 Ingredients
Rabbits

2

, cut into serving size pieces

Tabasco sauce

1 Tablespoon

Allspice

1⁄8 Teaspoon

Cinnamon

1⁄8 Teaspoon

Garlic salt

1⁄8 Teaspoon

Paprika

1⁄2 Teaspoon

Mint leaves

3 Small

Chopped parsley/1 tablespoon parsley flakes

3 Tablespoon

Water

2 Cup (32 tbs)

Melted butter

2 Tablespoon

Lemon juice

1 Tablespoon

(Extracted From 1 Fruit)

Salt

To Taste

Pepper

To Taste
Nutrition Facts
Serving size: Complete recipe
Calories 4902 Calories from Fat 1076
% Daily Value*
Total Fat 120 g184.5%
Saturated Fat 43.7 g218.6%
Trans Fat 0 g
Cholesterol 3371.1 mg
Sodium 2756.8 mg114.9%
Total Carbohydrates 7 g2.3%
Dietary Fiber 3.1 g12.5%
Sugars 1.1 g
Protein 892 g1783.9%
Vitamin A 122.8% Vitamin C 116.1%
Calcium 57.9% Iron 746.3%
*Based on a 2000 Calorie diet
Directions
Season rabbit with salt and pepper and place in one layer, meaty side up, in uncovered baking pan.
Shake 1 or 2 drops of Tabasco on each piece.
Mix together the cinnamon, allspice, garlic salt and paprika, and sprinkle over rabbit, along with minced mint leaves and parsley.
Add water.
Bake in a hot oven (400°), basting frequently with the melted butter mixed with the lemon juice.
Baste with juice in the pan when lemon butter runs out.
Cook for 1 hour, or until tender.
The liquor in the pan may be thickened for gravy.