»

Recipes

»

Oven Barbecued Chicken
Oven Barbecued Chicken Recipe
Oven barbecued chicken is an easy way to cook chicken with the flavors of barbecue in it. Prepared with floured chicken pieces along with butter and catsup, additionally flavored with chili sauce and worcestershire sauce, the oven barbecued chicken is great for home meals.
Oven Barbecued Chicken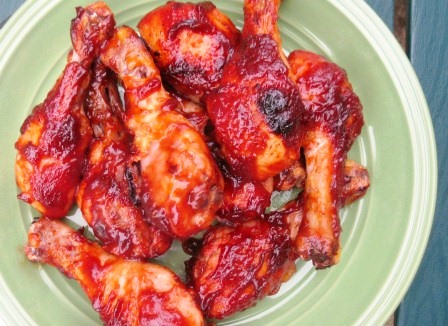 Ingredients
All purpose flour

1⁄2 Cup (8 tbs)

Paprika

1 Teaspoon

Salt

1⁄2 Teaspoon

Pepper

1⁄8 Teaspoon

Broiler fryer

3 Pound

, cut up

Butter

1⁄4 Cup (4 tbs)

, melted

Catsup

1⁄2 Cup (8 tbs)

Onion

1⁄2 Medium

, chopped

Water

2 Tablespoon

Vinegar

1 Tablespoon

Worcestershire sauce

1 Tablespoon

Chili powder

1⁄2 Teaspoon

Pepper

1⁄4 Teaspoon
Nutrition Facts
Serving size: Complete recipe
Calories 3753 Calories from Fat 2269
% Daily Value*
Total Fat 253 g388.9%
Saturated Fat 87.9 g439.5%
Trans Fat 0 g
Cholesterol 1141.5 mg
Sodium 3460.6 mg144.2%
Total Carbohydrates 95 g31.6%
Dietary Fiber 6.6 g26.3%
Sugars 34.2 g
Protein 264 g528.8%
Vitamin A 156.5% Vitamin C 91%
Calcium 25.1% Iron 101.8%
*Based on a 2000 Calorie diet
Directions
Combine first 4 ingredients; stir well.
Dredge chicken in flour mixture.
Pour butter into a 13 x 9 x 2 inch pan.
Arrange chicken in pan, skin side down.
Bake at 350° for 30 minutes.
Combine remaining ingredients, stirring well.
Remove chicken from oven, and turn; spoon sauce over chicken.
Bake an additional 30 minutes.