»

Recipes

»

Beef

»

Oven Baked Bourguignonne
Oven Baked Bourguignonne Recipe
Oven Baked Bourguignonne is a beef recipe made with noodles and vegetables. Simple yet elegant, this beef bourguignonne is cooked with carrots and tomatoes. Flavored with onion and beef soup, the oven baked bourguignonne is filling with egg noodles in it. cooked with red wine and sliced mushrooms, this hearty oven cooked fare is great as a family meal anytime.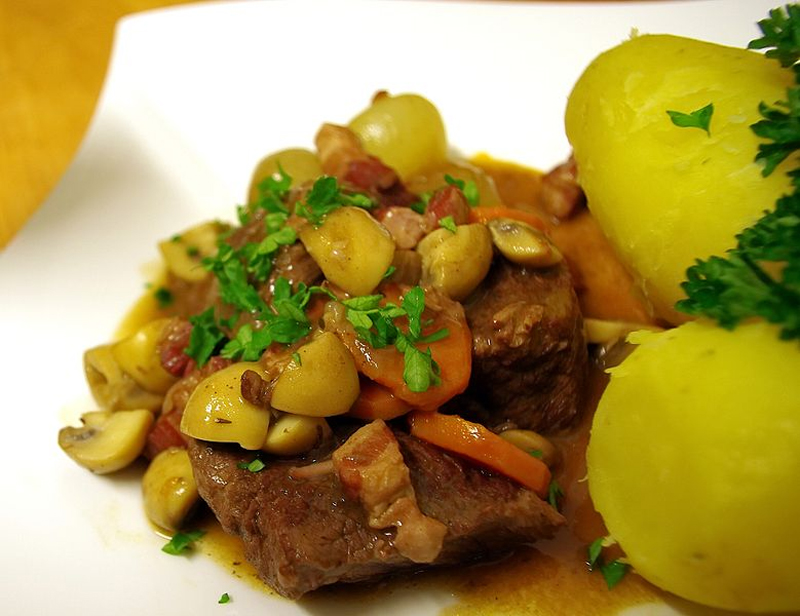 Ingredients
Boneless beef chuck

2 Pound

, cut into 1-inch cubes

All purpose flour

1⁄4 Cup (4 tbs)

Sliced carrots

1 1⁄3 Cup (21.33 tbs)

Canned whole peeled tomatoes

14 1⁄2 Ounce

, undrained and chopped (1 Can)

Bay leaf

1

Onion soup mix/Beefy onion soup mix

1 Ounce

(1 Envelope)

Dry red wine

1⁄2 Cup (8 tbs)

Sliced mushrooms

1 Cup (16 tbs)

(Fresh Or Canned)

Egg noodles

8 Ounce

(Medium Or Broad, 1 Package)
Nutrition Facts
Serving size: Complete recipe
Calories 3619 Calories from Fat 1563
% Daily Value*
Total Fat 174 g267.8%
Saturated Fat 68.6 g343.2%
Trans Fat 0.1 g
Cholesterol 789.2 mg
Sodium 3758.2 mg156.6%
Total Carbohydrates 251 g83.7%
Dietary Fiber 18.4 g73.7%
Sugars 24.9 g
Protein 217 g434.3%
Vitamin A 598.6% Vitamin C 69.3%
Calcium 48.6% Iron 124.8%
*Based on a 2000 Calorie diet
Directions
Preheat oven to 400°F In 2-quart casserole, toss beef with flour.
Bake uncovered 20 minutes.
Add carrots, tomatoes and bay leaf, then onion soup mix blended with wine.
Bake covered 1 1/2 hours or until beef is tender.
Add mushrooms and bake covered an additional 10 minutes.
Remove bay leaf.
Meanwhile, cook noodles according to package directions.
Image Courtesy :
http://commons.wikimedia.org/wiki/File:Beef_bourguignon-01.jpg