»

Recipes

»

Salad

»

Original Caesar Salad
Original Caesar Salad Recipe
Salads are a great addition to any menu. This tasty Original Caesar Salad is sure to add variety and spice to your everyday cooking.
Caesar Salad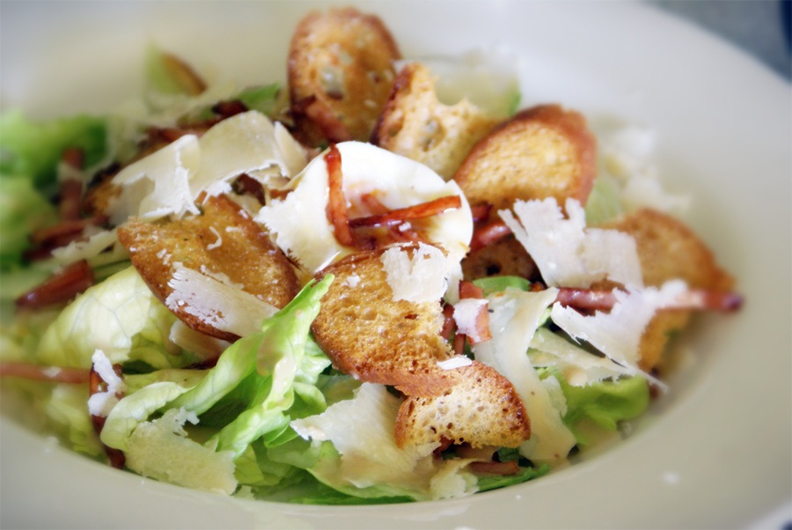 Summary
Preparation Time
25 Min
Cooking Time
2 Hr 0 Min
Ready In
2 Hr 25 Min
Difficulty Level
Medium
Ingredients
Garlic

2 Clove (5gm)

Olive or salad oil - 1 cup

Bread cubes - 1 cup

Grated Parmesan cheese

Romaine lettuce - 3 medium heads

Wine vinegar

3 Tablespoon

Juice of 1 lemon

Eggs

2 Small

Dash of Worcestershire sauce

Salt

To Taste

Pepper

To Taste
Directions
GETTING READY
1) Chill plates for serving.

MAKING
2) Add garlic into olive oil and stand for several days.
3) Remove the garlic.
4) On a cookie sheet, spread out the bread cubes and pour a small amount of garlic oil over.
5) Place in the oven and bake at 225 degrees for 2 hours.
6) Sprinkle with cheese.
7) Place in a jar and chill.
8) Tear the lettuce into pieces and add into a chilled salad bowl.
9) Sprinkle with the remaining garlic oil, vinegar, and lemon juice.
10) Boil the eggs for 1 minute and add into the salad.
11) Add salt, pepper, and Worcestershire sauce.
12) Sprinkle with cheese.
13) Toss till the dressing is combined and leaves are well coated.
14) Add in the croutons and lightly toss.

SERVING
15) Serve on the chilled plates.
16) Garnish with rolled anchovies.