»

Recipes

»

Pilaf

»

Oriental Chicken Pilaf
Oriental Chicken Pilaf Recipe
Does the chef next-door amaze you with his masterpiece Chicken recipe? Try out this Oriental Chicken Pilaff - one of the most unusual way of serving leftover chicken. Follow this quick and simple homemade recipe for Oriental Chicken Pilaff .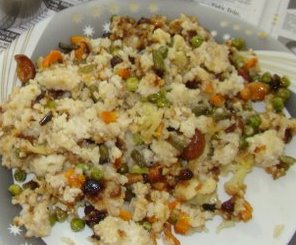 Ingredients
Butter/Margarine

1/2 Cup (16 tbs)

Cooked chicken - 2 cups, cut into 1 1/2 inch strips

Onion

1/4 Cup (16 tbs)

, diced

Salt

2 Teaspoon

Pepper

1/8 Teaspoon

Oregano

1/2 Teaspoon

White rice

1 Cup (16 tbs)

, uncooked

Chicken bouillon - 2 1/2 cups

Tomatoes

1/2 Cup (16 tbs)

, canned

Walnuts

1/2 Cup (16 tbs)

, chopped
Directions
MAKING
1. In a large saucepan melt the butter.
2. Cook adding the chicken and onion until the chicken is lightly browned.
3. Add salt, pepper and oregano.
4. Cook adding the ricestirring occasionally, for 5 minutes.
5. Slowly add the chicken bouillon, then the tomatoes and walnuts and bring to a boil.
6. Cover and simmer 20 minutes until rice is tender without stirring while cooking.

SERVING
7. Serve with garnish as desired.