»

Recipes

»

Orange

»

Orange Toasties
Orange Toasties Recipe
orange toasties are snacky little french bread buttered and toasted with marmalade. Flavored with a little nutmeg, the orange toasties are sprinkled with flaked coconut and can be served with tea or just by themselves.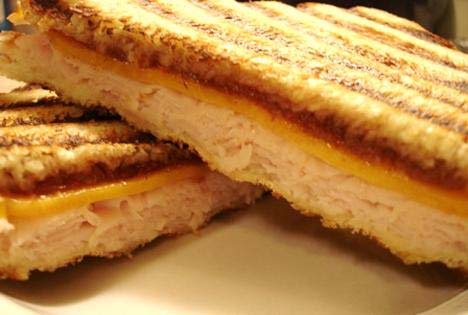 Ingredients
Butter

2 Tablespoon

, softened

Orange marmalade

2 Tablespoon

Ground nutmeg

1 Dash

French bread slice

4

, cut 0.5 inch thick

Flaked coconut

1⁄4 Cup (4 tbs)
Nutrition Facts
Serving size: Complete recipe
Calories 742 Calories from Fat 363
% Daily Value*
Total Fat 41 g63.8%
Saturated Fat 27.7 g138.3%
Trans Fat 0 g
Cholesterol 64.5 mg
Sodium 694.7 mg28.9%
Total Carbohydrates 83 g27.6%
Dietary Fiber 6 g23.8%
Sugars 24.1 g
Protein 13 g25.9%
Vitamin A 15.4% Vitamin C 2.9%
Calcium 15.8% Iron 16.6%
*Based on a 2000 Calorie diet
Directions
Combine butter, marmalade, and nutmeg.
Spread mixture on French bread.
Place on baking sheet.
Sprinkle with coconut.
Bake at 400° for 5 minutes or till coconut is toasted.