»

Recipes

»

Fusion

»

Orange Date Loaf
Orange Date Loaf Recipe
The orange date loaf is a flavorfula nd oven fresh bake that can be served as breakfast along with a glass of milk. Made with flour and flavored with orange juice and orange rind, the orange date loaf is also filled with dates and nutmeats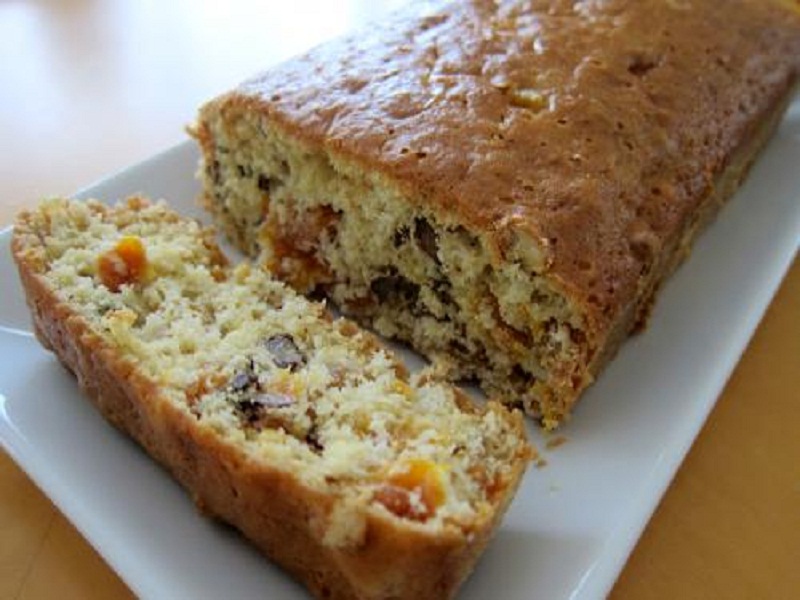 Ingredients
Flour

2 Cup (32 tbs)

, sifted

Baking powder

2 Teaspoon

Salt

1⁄2 Teaspoon

Egg

1

Shortening

2 Tablespoon

Sugar

3⁄4 Cup (12 tbs)

Orange juice

3⁄4 Cup (12 tbs)

Orange rind piece

1

(0.5 X 2)

Flavoring

1⁄2 Teaspoon

Nutmeats

1⁄2 Cup (8 tbs)

Pitted dates

1⁄2 Cup (8 tbs)
Nutrition Facts
Serving size: Complete recipe
Calories 2290 Calories from Fat 448
% Daily Value*
Total Fat 52 g79.2%
Saturated Fat 21.4 g106.9%
Trans Fat 3.9 g
Cholesterol 211.5 mg
Sodium 1846.4 mg76.9%
Total Carbohydrates 431 g143.5%
Dietary Fiber 18.9 g75.6%
Sugars 216.9 g
Protein 37 g73.8%
Vitamin A 14.1% Vitamin C 203%
Calcium 89% Iron 88.7%
*Based on a 2000 Calorie diet
Directions
Heat oven to 350°.
Grease an 8 1/2 "x 4 1/2 loaf pan.
Sift flour, baking powder, and salt into a mixing bowl.
Put egg, shortening, sugar, orange juice, and rind into the Osterizer container, cover and blend at MIX until smooth.
Stop Osterizer, add extract, nuts, and dates; cover and CYCLE/CHOP dates and nuts.
Pour mixture over dry ingredients and mix only until dry ingredients are moistened.
Turn into greased loaf pan.
Bake 55 to 60 minutes.