»

Recipes

»

Cookie

»

Orange Cookies
Orange Cookies Recipe
I am literally in love with these Orange Cookies! i normally wouldn't like any fruit flavored cookies, but THIS snack I cannot resist!!! Oozing with the flavor of orange, the almonds make a delicious combination into it.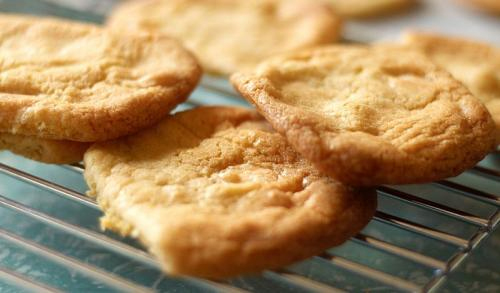 Ingredients
Margarine

1/4 Cup (16 tbs)

Sugar

1 Cup (16 tbs)

Grated rind of 1/2 orange

Egg yolks

4

Orange juice

2 Tablespoon

Flour

2 1/2 Cup (16 tbs)

, sifted

Baking powder

2 Teaspoon

Salt

1/8 Teaspoon

Egg white

1

Almonds

1/2 Cup (16 tbs)

, chopped

Sugar

1/4 Cup (16 tbs)
Directions
GETTING READY
1) Grease a baking sheet.

MAKING
2) Combine and cream the butter and sugar till light and fluffy.
3) Add in the orange rind, egg yolks, and orange juice and mix well.
4) Sift together the flour, baking powder, and salt.
5) Add into the creamed mix and mix well.
6) Refrigerate.
7) Lightly flour a board.
8) Taking little dough at a time, roll out to 1/8 inch thickness.
9) Cut in desired shapes.
10) Brush with beaten egg whites.
11) Combine the almonds and sugar and sprinkle over the cookies.
12) Arrange on the baking sheet and bake at 375°F for 7 to 8 minutes.

SERVING
13) Serve as a snack.