»

Recipes

»

Bread

»

Orange Honey Bread
Orange Honey Bread Recipe
Try this Orange Honey Bread. An easily prepared recipe, Orange Honey Bread is a side dish that you will always love to include in your menu.
Honey Bread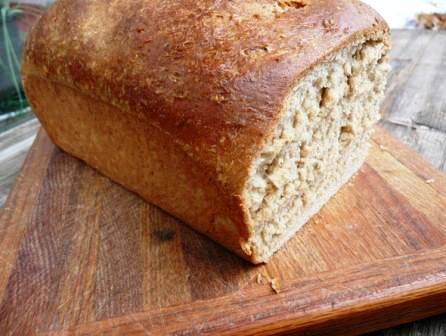 Ingredients
Shortening

2 Tablespoon

Honey

1 Cup (16 tbs)

Egg

1

, well beaten

Grated orange rind

1 1⁄2 Tablespoon

Flour

2 1⁄2 Cup (40 tbs)

, sifted

Baking powder

1 1⁄2 Teaspoon

Soda

1⁄2 Teaspoon

Salt

1⁄2 Teaspoon

Orange juice

3⁄4 Cup (12 tbs)

Chopped nuts

3⁄4 Cup (12 tbs)
Nutrition Facts
Serving size: Complete recipe
Calories 3147 Calories from Fat 875
% Daily Value*
Total Fat 96 g147.5%
Saturated Fat 19.2 g95.8%
Trans Fat 3.9 g
Cholesterol 211.5 mg
Sodium 2719.9 mg113.3%
Total Carbohydrates 532 g177.3%
Dietary Fiber 19.5 g77.9%
Sugars 267.1 g
Protein 64 g128.2%
Vitamin A 14.2% Vitamin C 208.5%
Calcium 85.4% Iron 100.6%
*Based on a 2000 Calorie diet
Directions
1. Preheat oven to slow (325° F.).
2. Cream the shortening, add the honey and mix together thoroughly. Add the egg and grated orange rind.
3. Sift the flour with the baking powder, soda and salt and add to the creamed mixture alternately with the orange juice, stirring only until flour is dampened. Add the nuts.
4. Turn into a greased nine-inch loaf pan and bake one hour and ten minutes.