»

Recipes

»

Pudding

»

Orange Bread Pudding
Orange Bread Pudding Recipe
Orange Bread Pudding is a delicious dessert version. An easy to make pudding recipe, you will simply find this Orange Bread Pudding both mouth-watering and amazingly tempting.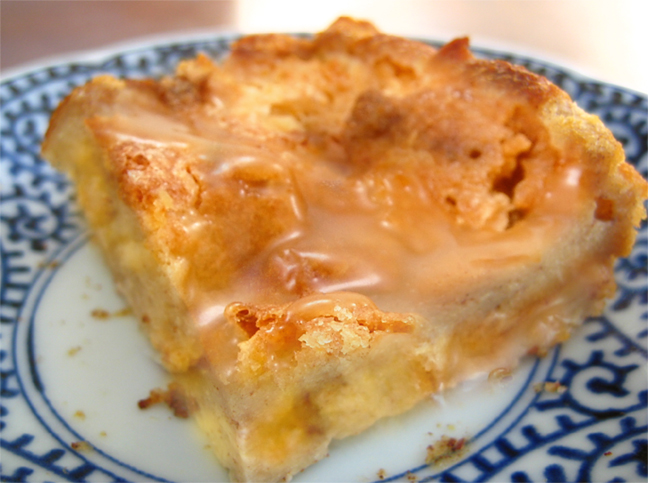 Ingredients
Bread cubes

1 Cup (16 tbs)

Sugar

1⁄2 Cup (8 tbs)

Salt

1⁄8 Teaspoon

Orange juice

3⁄4 Cup (12 tbs)

Scalded milk

3⁄4 Cup (12 tbs)

Egg yolks

4

, beaten

Butter

1 Tablespoon

Orange rind

1

, grated

Whipped cream

2 Tablespoon
Nutrition Facts
Serving size: Complete recipe
Calories 1121 Calories from Fat 409
% Daily Value*
Total Fat 46 g70.4%
Saturated Fat 23.8 g119.1%
Trans Fat 0 g
Cholesterol 832.4 mg
Sodium 658 mg27.4%
Total Carbohydrates 160 g53.3%
Dietary Fiber 3.6 g14.3%
Sugars 128.4 g
Protein 20 g40.3%
Vitamin A 37.4% Vitamin C 200.3%
Calcium 41.1% Iron 21.8%
*Based on a 2000 Calorie diet
Directions
1. Preheat oven to moderate (375° F.).
2. Soak the bread cubes in milk ten minutes. Add the orange juice and rind, egg yolks, sugar and salt. Stir until the sugar has dissolved.
3. Pour into well-buttered individual molds, dot with butter and place the molds in a pan of hot water. Bake thirty minutes, or until the tip of a knife inserted one inch from the outside edge comes away clean. Chill. Unmold and serve with whipped cream.