»

Recipes

»

Pie

»

Open Fresh Strawberry Pie
Open Fresh Strawberry Pie Recipe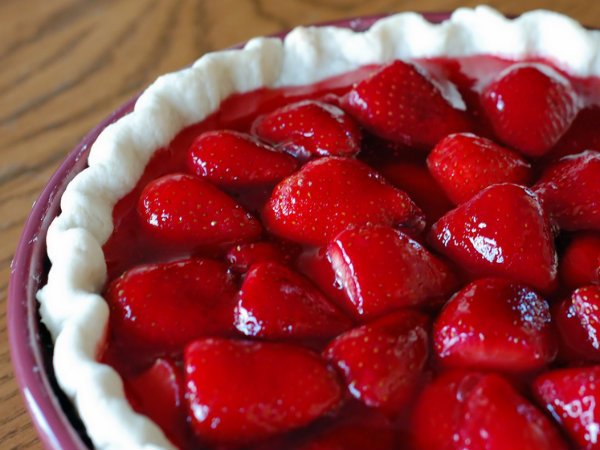 Summary
Preparation Time
15 Min
Cooking Time
15 Min
Ready In
30 Min
Difficulty Level
Easy
Health Index
Average
Servings
4
Ingredients
Flour

1 Cup (16 tbs)

Shortening

1⁄2 Cup (8 tbs)

Salt

1⁄2 Teaspoon

Cold water

1 Tablespoon

Crushed strawberies

1 Cup (16 tbs)

(Fresh)

Sugar

1 Cup (16 tbs)

Cornstarch

1 Tablespoon

Fresh strawberries

1 Cup (16 tbs)

(Enough To Fill The Pie)
Nutrition Facts
Serving size
Calories 581 Calories from Fat 232
% Daily Value*
Total Fat 26 g40.4%
Saturated Fat 6.5 g32.3%
Trans Fat 3.4 g
Cholesterol 0 mg
Sodium 245.4 mg10.2%
Total Carbohydrates 85 g28.4%
Dietary Fiber 3 g11.8%
Sugars 55.1 g
Protein 4 g7.9%
Vitamin A 0.2% Vitamin C 101.8%
Calcium 2.2% Iron 10.7%
*Based on a 2000 Calorie diet
Directions
GETTING READY
1. Collect and measure all the required ingredients
2. Preheat the oven to 425°F before baking

MAKING
3. Into a mixing bowl sift the flour with the salt.
4. Cut the shortening into small cubes and add into the flour.
5. Rub the butter and the flour using your fingertips until the mixture resembles cornmeal.
6. Add cold water and stir to bind into a stiff dough.
7. Turn out, bring together and lightly knead.
8. Dust the surface with flour and roll out into a ¼ inch thick circle large enough to fit an 8-inch pie tin.
9. Neatly line the pie tin, cutting off the excess pastry at the edges.
10. Bake in the preheated oven for 15 minutes until lightly browned.
11. Remove and cool completely.
12. Make the filling in the meantime by combining the crushed strawberries, sugar and corn starch in a saucepan.
13. Place on a low flame and bring to a boil, stirring constantly, until the mixture is thick and bubbly. Take off the flame and allow cooling.
14. Neatly arrange the fresh strawberries in the cooled pie shell.
15. Pour the berry compote into the pie crust
16. Place pie in the refrigerator to chill completely..

SERVING
17. Slice into equal size wedges and serve cold.
18. You can accompany the pie with a bowl of whipped cream passed at the table.
Image Courtesy :
http://www.flickr.com/photos/samdogs/3351216953/