»

Recipes

»

Olive

»

Olive Garden- Pasta With Shrimps
Olive Garden- Pasta with shrimps Recipe
This Olive garden recipe that combines pasta with shrimps is a beautiful symphony of ingredients that is a real treat for anyone who loves experimenting with tastes and flavors. An easy to make quick recipe this is a one dish complete meal that you would simply love.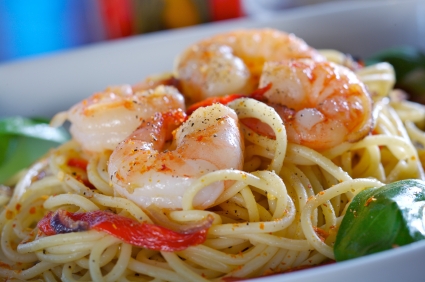 Summary
Preparation Time
10 Min
Cooking Time
20 Min
Ready In
30 Min
Difficulty Level
Easy
Health Index
Healthy
Servings
4
Ingredients
Pasta

1 Pound

¼ to ½ cup of olive oil (extra virgin)

1 ½ tbsp garlic, chopped very finely

Parsley

3 Tablespoon

, finely chopped

Shrimp

1 Pound

, deveined

¾ cup dry wine of your choice

Black pepper

1/2 Teaspoon

, crushed

Butter

3 Tablespoon

Salt

To Taste

Juice of half a lime
Directions
Take a large saucepan and add the olive oil in it. Add in the garlic and sauté for a minute till you get the nice aroma of garlic. Add in the parsley and mix. Add the shrimps and stir. Add in the butter and the dry wine. Add salt to taste and pepper. Stir to blend all the ingredients well. Add in the cooked pasta and mix well. Sprinkle juice of lime and the remaining chopped parsley. Enjoy!!

Therese1216 says :
Simple and very easy to make! Very good flavor. The only two things I changed were to decrease the amount of oil used. Just enough to lightly cover the bottom of a large sauté pan and since the half a lime I squeezed gave a lot of juice, I only used 3 /4 of the output. Almost forgot! I doubled the black pepper. Yummy.
Posted on:
30 March 2012 - 10:29pm

Angela White says :
I really enjoyed this recipe! I love the combination of all these ingredients, it's very tasty. Because I like more flavor, I added a bit more garlic and certainly more parsley. Since I did not have wine, I just ignored it and it turned out so good that I am not sure I even want to add it in the future. I do not believe that the pic above shows how good this recipe really is. Easy,not as healthy as it claims (since there is a lot of fat), but certainly fantastic! I recommend!
Posted on:
22 June 2011 - 2:45pm