»

Recipes

»

Sauce

»

Olive Garden - Beef Fillet In Balsamic Sauce
Olive Garden - Beef Fillet in Balsamic Sauce Recipe
These delicious Beef Fillets in Balsamic Sauce straight from your favorite Olive Garden is a great way to entertain. Even if you do not have much time in hand, you can whip up a great treat with this easy and simple recipe. Enjoy!!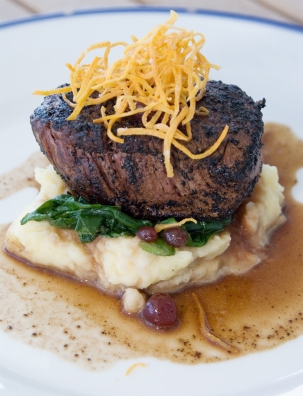 Ingredients
4 beef tenderloin fillets

Extra virgin olive oil

3 Tablespoon

Butter

2 Tablespoon

1 onion , sliced thin and long

½ cup wine (Marsala)

Salt

To Taste

Black pepper

1/4 Teaspoon

½ to 1 cup beef broth

Balsamic vinegar

2 Tablespoon

Parsley

1 Tablespoon

, finely chopped

Chopped

3

, finely chopped
Directions
Take the beef fillet and marinate with a tbsp oil salt and pepper. Keep aside for 15 minutes. Grill them and keep aside.
Take a saucepan, add butter and oil. Add the onions, salt and pepper. Saute till the onions are soft and turn golden brown. Add in the beef broth, the wine and mix well. Add the finely chopped rosemary. Boil. When it starts to boil, reduce heat and let simmer for approximately 10 minutes. Let the sauce reduce to half the quantity. Serve the sauce on top of the grilled fillet. Garnish with parsley. Enjoy!!