»

Recipes

»

Meatloaf

»

Meatloaf

»

Old-Time Meat Loaf
Old-Time Meat Loaf Recipe
the old time meat loaf is a three meat preparation of meatloaf. Made from veal, beef and pork, the old time meat loaf is made with eggs, breadcrumbs and seasoned to taste along with sage for flavor. Baked in a roasting pan, it can be served with grains, potato salad and vegetables.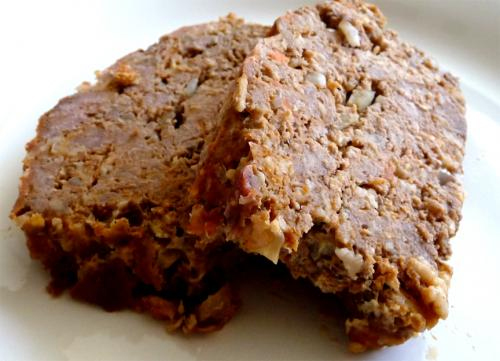 Ingredients
Beef shoulder

1 Pound

Veal

1/2 Pound

Pork shoulder

1/4 Pound

Eggs

2 Small

, beaten

1 cup cracker or dry bread crumbs

Sage or other seasonings

Salt

To Taste

Pepper

To Taste
Directions
Put beef, veal and pork through food chopper.
Add beaten eggs, dry bread crumbs, salt, pepper, sage or other seasoning to taste.
Mix and shape in a loaf.
Bake in a roast pan one hour at 375 F.