»

Recipes

»

Meatloaf

»

Meatloaf

»

Old-Time Meat Loaf
Old-Time Meat Loaf Recipe
the old time meat loaf is a three meat preparation of meatloaf. Made from veal, beef and pork, the old time meat loaf is made with eggs, breadcrumbs and seasoned to taste along with sage for flavor. Baked in a roasting pan, it can be served with grains, potato salad and vegetables.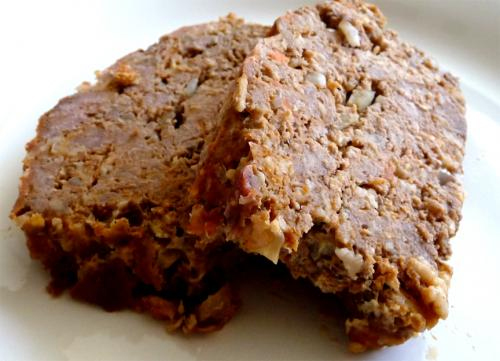 Ingredients
Beef shoulder

1 Pound

Stewing veal

1⁄2 Pound

Pork shoulder

1⁄4 Pound

Eggs

2 Small

, beaten

Cracker crumbs/Dry bread crumbs

1 Cup (16 tbs)

Sage/Other seasoning

2 Teaspoon
Nutrition Facts
Serving size: Complete recipe
Calories 1627 Calories from Fat 705
% Daily Value*
Total Fat 79 g121.6%
Saturated Fat 28.8 g143.9%
Trans Fat 0.1 g
Cholesterol 751.8 mg250.6%
Sodium 2460.1 mg102.5%
Total Carbohydrates 71 g23.6%
Dietary Fiber 9 g35.9%
Sugars 15.6 g
Protein 153 g306.6%
Vitamin A 19.4% Vitamin C 5.4%
Calcium 26.4% Iron 52.6%
*Based on a 2000 Calorie diet
Directions
Put beef, veal and pork through food chopper.
Add beaten eggs, dry bread crumbs, salt, pepper, sage or other seasoning to taste.
Mix and shape in a loaf.
Bake in a roast pan one hour at 375 F.