»

Recipes

»

Tart

»

Old-Fashioned Fried Apple Tarts
Old-Fashioned Fried Apple Tarts Recipe
Are you up for making a mouthwatering Old-fashioned Fried Apple Tarts recipe? The combination of the flavors of Apple with other ingredients is the secret to this Old-fashioned Fried Apple Tarts. Served as a Snack, this will be enjoyed by everyone who eats it.
Old-Fashioned Fried Apple Tarts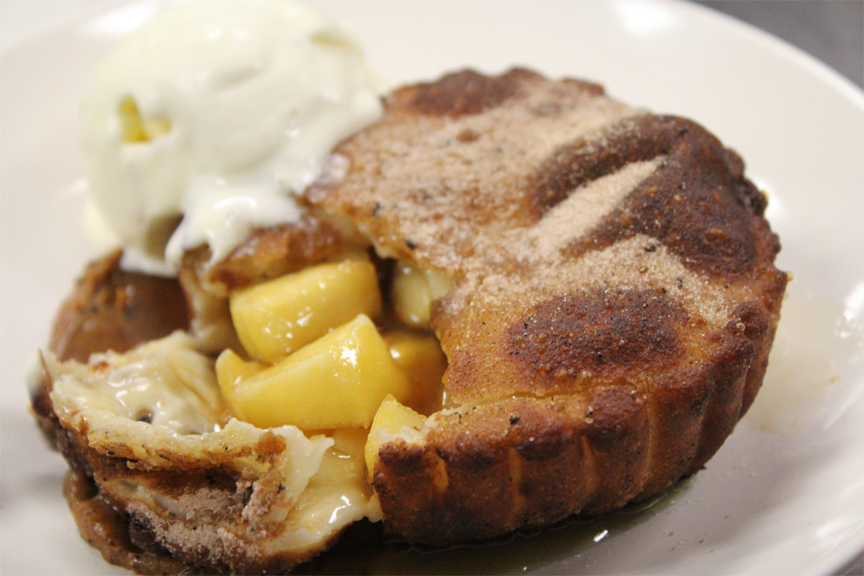 Ingredients
Dried apples

8 Ounce

Sugar

To Taste

Shortening

1⁄2 Cup (8 tbs)

Sifted self rising flour

2 Cup (32 tbs)

Hot fat

1 Cup (16 tbs)

(For deep frying)
Nutrition Facts
Serving size: Complete recipe
Calories 3253 Calories from Fat 1104
% Daily Value*
Total Fat 124 g191.5%
Saturated Fat 32.1 g160.4%
Trans Fat 13.5 g
Cholesterol 18.1 mg
Sodium 6601.4 mg275.1%
Total Carbohydrates 502 g167.5%
Dietary Fiber 19.7 g78.9%
Sugars 130.7 g
Protein 34 g68.2%
Vitamin A Vitamin C 14.7%
Calcium 99.3% Iron 106.9%
*Based on a 2000 Calorie diet
Directions
MAKING
1) Prepare the apples according to the package directions.
2) Mash thoroughly and add in the sugar.
3) Refrigerate.
4) Cut in the shortening into flour and add about 5 tablespoons cold water.
5) Mix till a dough is formed.
6) Continue kneading till smooth.
7) Roll into saucer-sized circles.
8) Add small amount of apples in the center of each circle.
9) Fold in half and seal and trim the edges.
10) Add into hot fat in skillet and fry till lightly browned, turning once.
11) Drain.

SERVING
12) Serve with cream.