»

Recipes

»

Dressing

»

Old-Fashioned Stuffing For Turkey
Old-Fashioned Stuffing for Turkey Recipe
Here is the recipe for Old-fashioned Stuffing For Turkey! The classic way to follow this age-old tradition! Simply flavored with nutmeg and a dash of pepper, this is a great recipe to follow. So next Thanksgiving, you won't be thinking back about the turkey at grandma's!!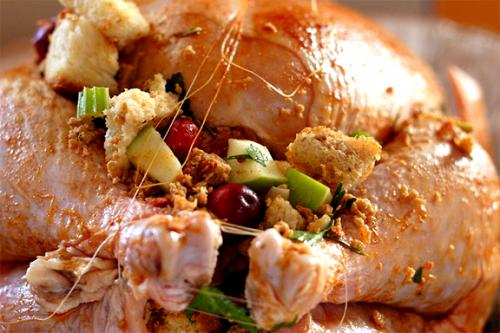 Ingredients
Onions

7 Cup (112 tbs)

, chopped

Celery

9 Cup (144 tbs)

, diced

Butter

2 Cup (32 tbs)

Bread slice

25

Nutmeg

1 Tablespoon

Monosodium glutamate

1⁄2 Teaspoon

Salt

1 1⁄2 Tablespoon

Pepper

1⁄2 Teaspoon

Poultry seasoning

2 Teaspoon

Eggs

4

, slightly beaten
Nutrition Facts
Serving size: Complete recipe
Calories 5980 Calories from Fat 3657
% Daily Value*
Total Fat 416 g640.1%
Saturated Fat 247.9 g1239.4%
Trans Fat 0 g
Cholesterol 1813.5 mg
Sodium 14407.7 mg600.3%
Total Carbohydrates 480 g160%
Dietary Fiber 59.3 g237.3%
Sugars 83.4 g
Protein 107 g213.7%
Vitamin A 347.4% Vitamin C 209.6%
Calcium 154.8% Iron 171.8%
*Based on a 2000 Calorie diet
Directions
GETTING READY
1) In the oven, toast the bread slices till dry and golden brown.
2) Grease a casserole.

MAKING
3) In a skillet, heat butter.
4) Add onion and celery and sauté till tender.
5) Soak the toasted bread in cold water till soft.
6) Squeeze out all water.
7) Tear into small pieces and place in a bowl.
8) Add in the onions, celery, and butter.
9) Combine the seasonings and add to the bread mix.
10) Add in the eggs, mixing well.

SERVING
11) Use the stuffing in the turkey.
12) Place any remaining stuffing in the casserole and cover.
13) Place in the oven at 325 degrees, and bake for 30 minutes.
14) Serve hot.