»

Recipes

»

Pork

»

Odd Couple Stir Fry
Odd Couple Stir Fry Recipe
Pork Vegetable Stir Fry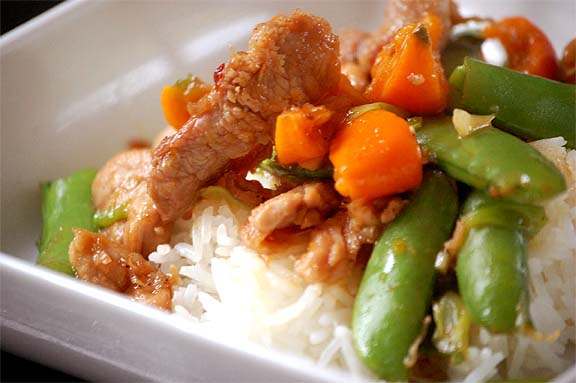 Ingredients
Grapefruit juice

1⁄3 Cup (5.33 tbs)

Soy sauce

3 Tablespoon

Vegetable oil

3 Tablespoon

Ground ginger

1⁄2 Teaspoon

Boneless pork loin

1 Pound

, cut into very thin strips

Cornstarch

1 Tablespoon

Sea scallops

3⁄4 Pound

, cut into thin slices

Green onions/Seal lions

1 Cup (16 tbs)

, cut into 1 inch pieces

Grapefruits

2

, peeled and sectioned

Hot cooked rice

1 Cup (16 tbs)
Nutrition Facts
Serving size: Complete recipe
Calories 2035 Calories from Fat 689
% Daily Value*
Total Fat 77 g119%
Saturated Fat 15.1 g75.6%
Trans Fat 0.2 g
Cholesterol 470.6 mg
Sodium 3303.2 mg137.6%
Total Carbohydrates 134 g44.7%
Dietary Fiber 9.8 g39.2%
Sugars 9.8 g
Protein 193 g385.9%
Vitamin A 88% Vitamin C 451.5%
Calcium 25.7% Iron 56.6%
*Based on a 2000 Calorie diet
Directions
Combine grapefruit juice, soy sauce, 1 tablespoon oil and ginger in a small bowl.
Add pork strips; cover and marinate 1 hour at room temperature.
Drain pork.
Combine marinade and cornstarch; set aside.
Heat remaining oil in a large skillet or wok over high heat; add pork and stir fry 2 to 3 minutes until browned.
Add scallops; continue stir frying another 2 minutes.
Add reserved marinade mixture and green onions; continue stirring until sauce boils and thickens.
Gently stir in grapefruit sections.
Serve over hot rice; garnish with strips of green pepper if desired.