»

Recipes

»

Wine

»

Wine

»

Octopus In Wine
Octopus in Wine Recipe
Octopus in Wine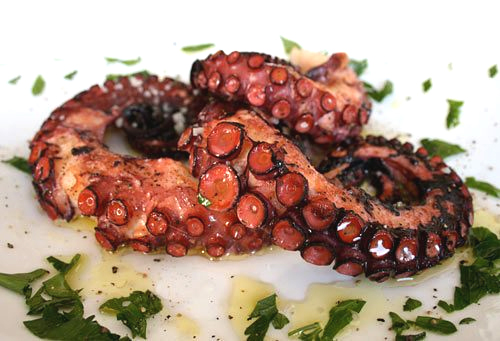 Ingredients
Octopus

2 Pound

(1 Kilogram)

Olive oil

2 Fluid Ounce

(50 Milliliter)

Onions

8 Ounce

, finely chopped (250 Gram)

Tomatoes

12 Ounce

, skinned, seeded and the flesh finely chopped (350 Gram)

Sun-dried tomatoes/1 teaspoon tomato paste

2

, if in oil, snipped up and soaked in 50 milliliter / 2 fluid ounce of boiling water

Boiling water

2 Fluid Ounce

(50 Milliliter)

Mavrodaphne/Ruby port

8 Fluid Ounce

(250 Milliliter)

Wine vinegar/Scorthostoiimbi / garlic vinegar

1 Teaspoon

Celery stalks/Celery tops and leaves

2

, finely chopped

Bay leaf

1

, crushed

Freshly ground black pepper

To Taste

Salt

To Taste
Nutrition Facts
Serving size: Complete recipe
Calories 1612 Calories from Fat 622
% Daily Value*
Total Fat 70 g108.1%
Saturated Fat 10.6 g53.1%
Trans Fat 0 g
Cholesterol 435.5 mg
Sodium 2658.2 mg110.8%
Total Carbohydrates 104 g34.6%
Dietary Fiber 12.4 g49.5%
Sugars 58.2 g
Protein 144 g287.5%
Vitamin A 96.3% Vitamin C 226.1%
Calcium 64.3% Iron 288.5%
*Based on a 2000 Calorie diet
Directions
To clean the octopus, stretch out the tentacles all in one direction and slash across, above and below the eyes to remove them.
Pop out the beak in the middle of the mouth.
Pull out the entrails from inside the head, saving the ink sac, which looks very silvery.
Turn the octopus body inside out and wash inside.
Don't worry about the skin, but run your hands down the tentacles and pop out any big suckers.
Put the ink sac (if it is there) in a sieve placed over a cup.
Crush the ink sac with the back of a wooden spoon.
Pour a tablespoon of water through and crush again, extracting as much ink as possible.
Put the ink in the refrigerator until needed.
The fishermen in Greece beat the octopus against the rocks 80 times before they sell it.
In case your octopus hasn't been given the same treatment, you might whack it a bit with a meat cleavet or rolling pin.
Cut it into bite-sized pieces.
Place the octopus pieces in a dry pot, set on a heat diffuser over the lowest possible heat, and sweat until it exudes then reabsorbs its own red liquid, or until tender.
This could take anywhere from 20-30 minutes.
Remove the octopus and any remaining liquid, add the olive oil and fry the onions gently until transparent.
Pound the sun-dried tomatoes to a paste, then add the chopped tomato, tomato paste, mavrothdphne, garlic or wine vinegar, celery and bay leaf to the pan, and season with salt and pepper.
Simmer 5-10 minutes until the sauce begins to thicken.
Add the octopus, cover and simmer slowly for about 50 minutes.
Stir in the ink (if reserved) and simmer another 10 minutes, or until tender.