»

Recipes

»

Meatball

»

Oatmeal Meatballs
Oatmeal Meatballs Recipe
This Oatmeal Meatballs recipe is the favorite of my friend's wife.This Oatmeal Meatballs recipe is simple and easy. Whenever I visit his house, she definitely serves this dish. Really this dish is delicious. My friend says that he likes his wife due to this dish. So if you want to bring delightment to your house try this Oatmeal Meatballs recipe.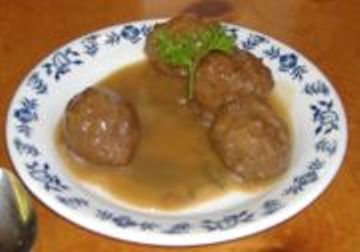 Ingredients
Hamburger

2 Pound

(thawed)

Evaporated milk

1⁄2 Can (5 oz)

Oatmeal

1 Cup (16 tbs)

Egg

1

Onion

1⁄2 Cup (8 tbs)

Pepper

1⁄4 Teaspoon

Salt

To Taste

Chili powder

1⁄2 Teaspoon

Sugar/Brown sugar

1 Cup (16 tbs)

Ketchup

1 Cup (16 tbs)

(for topping)

Brown sugar

1 Cup (16 tbs)

(for topping)

Liquid smoke

1 Tablespoon

(for topping)

Onion flakes

1⁄4 Cup (4 tbs)

(for topping)

Garlic powder

1⁄4 Teaspoon

(for topping)
Nutrition Facts
Serving size
Calories 931 Calories from Fat 138
% Daily Value*
Total Fat 17 g26%
Saturated Fat 7.1 g35.7%
Trans Fat 0.8 g
Cholesterol 203.8 mg
Sodium 1019.5 mg42.5%
Total Carbohydrates 142 g47.2%
Dietary Fiber 2.5 g10.2%
Sugars 121.3 g
Protein 56 g112.7%
Vitamin A 6.6% Vitamin C 10.6%
Calcium 36.3% Iron 99%
*Based on a 2000 Calorie diet
Directions
Step1-Mix hamburger, evaporated milk, oatmeal, egg, onion, pepper, salt and chili powder in a bowl.

Step2-Shape into meatballs .

Step3-Place meatballs into a 9 x 13 pan coated with non-stick spray. Set aside.

Step4-In a separate bowl, mix topping ingredients. Spread on top of meatballs using a spatula.

Step5-Bake for 50 minutes in a 375 degrees Farenhite oven.

Step6-These meatballs are excellent to keep in the freezer, unbaked. Simply thaw and bake-off when ready for a quick and easy dinner.

delicious meatballs recipe
Posted on:
31 January 2008 - 2:57pm