»

Recipes

»

Cookie

»

Oatmeal Cookies
Oatmeal Cookies Recipe
Oatmeal Cookies are so yummy. They are soft, chewy and crumbly filled with healthy oats. These cookies are low fat and calorie and can be made with nuts, raisins, chocolate and coconut. Here is the simple, quick and easy recipe for you.
Oatmeal Cookies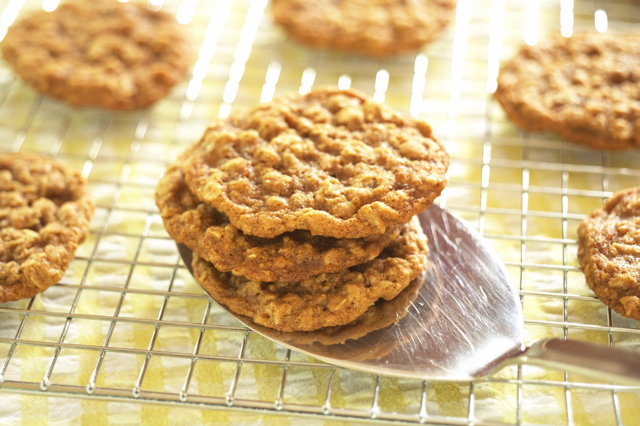 Ingredients
All-purpose flour-2 cups, sifted

Baking powder

1 Teaspoon

Salt

1 Teaspoon

Cinnamon

1 Teaspoon

Baking soda

1/2 Teaspoon

Old fashioned or quick oats or instant oatmeal-3 cups, pan-toasted

Raisin

1 Cup (16 tbs)

Margarine

1 1/4 Cup (16 tbs)

Sugar

1 1/4 Cup (16 tbs)

Eggs

2 Small

, slightly beaten

Milk

1/4 Cup (16 tbs)
Directions
MAKING
1)In a bowl, sift flour, baking powder, salt, cinnamon and baking soda together.
2)Mix in oats or instant oatmeal and raisins.
3)In a mixing bowl, beat margarine and sugar.
4)Add eggs and beat until fluffy.
5)Add half the dry ingredients, then milk, then remaining dry ingredients.
6)Take ungreased cookie sheet and drop spoonsful, 2-inches apart, on it.
7)Bake at 400 degrees until lightly browned, 10 to 12 minutes.
8)Remove from cookie sheet immediately.

SERVING
9)Serve oatmeal cookies for snacks.