»

Recipes

»

Bar

»

Oatmeal Bars
Oatmeal Bars Recipe
If you craving for midday mouth-watering bites, then try out these simple Oatmeal Bars. Healthy, this bar is deliciously flavored with a combination of chocolate and orange! Follow this effortless recipe and enjoy snack times in a healthy way!!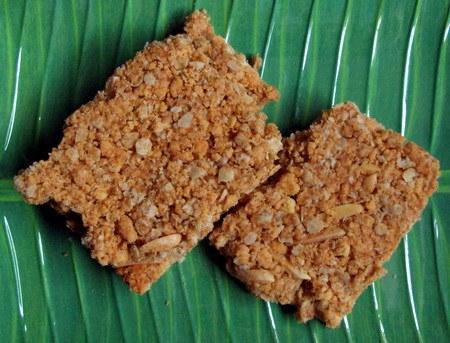 Ingredients
Shortening

1/3 Cup (16 tbs)

Brown sugar

2/3 Cup (16 tbs)

, firmly packed

Egg

1

Flour

1 Cup (16 tbs)

, sifted

Salt

1/4 Teaspoon

Soda

1/4 Teaspoon

Quick-cooking oats - 1 1/4 cups

Milk

1/2 Cup (16 tbs)

Semi-sweet chocolate morsels - 1 package (1 cup)

Sugar

1/4 Cup (16 tbs)

Orange juice

1 Tablespoon

Orange rind

1 Tablespoon

, grated
Directions
GETTING READY
1) Grease a 10 x 5 x 3-inch pan.

MAKING
2) In a bowl, combine and cream the shortening and sugar till light and fluffy.
3) Add in the egg and beat well.
4) Combine and sift the flour, salt, and soda.
5) Add into the creamed mix.
6) Add in the oats, milk, and chocolate morsels.
7) Transfer into the baking pan.
8) Place in the oven at 375° F and bake for 35 to 40 minutes.
9) Combine the sugar and orange juice and allow to boil.
10) Add in the orange rind.
11) Add over the baked cookies.
12) Cool.

SERVING
13) Cut into bars.