»

Recipes

»

Scone

»

Oatmeal Scones
Oatmeal Scones Recipe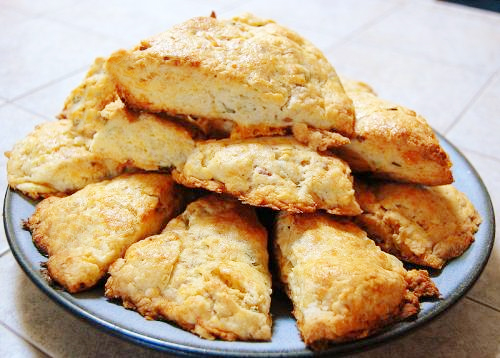 Ingredients
50 g / 2 oz medium oatmeal

50 g / 2 oz plain wholewheat or white flour

Salt

1 Pinch

Soft brown sugar

1 Teaspoon

Cream of tartar

1/2 Teaspoon

Soda bicarbonate

1/4 Teaspoon

15 g / 1/2 oz dripping or bacon fat

About 3 tablespoons milk, to mix
Directions
MAKING
1. Into a large basin, sieve the flour, salt, cream of tarter and soda.
2. Mix in the sugar and oatmeal.
3. Pour the fat and milk into the dry ingredients.
4. Using your hand, bind ingredients into a soft dough.
5. Turn the dough on to a flour dusted work surface. Using a dusted rolling pin, roll the dough into a large circle of 1/4 inch thickness. Use any round lid or cutter to cut out circles of 3 inches.

FINALIZING
6. Heat a griddle or shallow frying pan on a high flame and lightly grease with oil.
7. Grill the muffins for 3-4 minutes on each side until golden brown.
8. Remove on a kitchen paper and allow to cool slightly

SERVING
9. Serve scorns warm.
10. Use can all make mini burgers by sandwiching a filling of your choice between two scones. .