»

Recipes

»

Oatmeal

»

Oatmeal Raisin Cookies
Oatmeal Raisin Cookies Recipe
These Oatmeal Raisin Cookies are a delightful snack ! Try these delicious crispy bakes as a tea time brunch and tell me if you like it ! Your suggestions for these Oatmeal Raisin Cookies are welcome !
Oat Raisin Cookie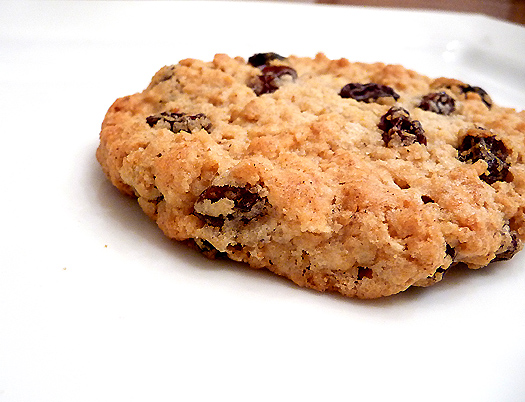 Ingredients
Nonstick cooking spray

1/2 cup light corn oil spread

1 cup packed dark brown sugar

Egg whites

2 Large

Egg

1 Large

Vanilla extract

2 Teaspoon

All purpose flour

1 3/4 Cup (16 tbs)

Quick cooking oats

1 Cup (16 tbs)

, uncooked

Golden Raisins

1 Cup (16 tbs)

Baking powder

1 Teaspoon

Salt

1/4 Teaspoon
Directions
Preheat oven to 375°F.
Spray large cookie sheet with nonstick cooking spray.
In large bowl, with mixer at low speed, beat corn oil spread and brown sugar until blended.
Increase speed to high; beat until well combined, about 3 minutes.
At low speed, add egg whites, egg, and vanilla; beat until smooth.
With spoon, stir in flour, oats, raisins, baking powder, and salt until combined.
Drop dough by heaping tablespoons, about 2 inches apart, on cookie sheet.
Flatten dough into 3 inch rounds (dough will be very moist and sticky€"for easier shaping, use slightly wet hands).
Bake cookies 16 to 18 minutes or until golden.
With pancake turner, remove cookies to wire racks to cool.
Repeat until all batter is used.
Store cookies in tightly covered container.