»

Recipes

»

Pancake

»

Oatmeal Pancakes
Oatmeal Pancakes Recipe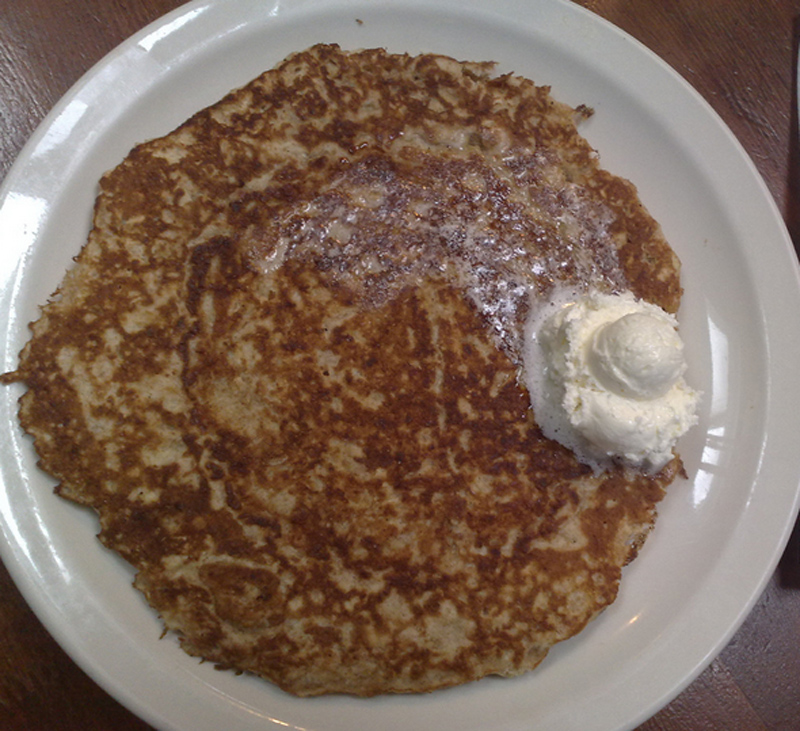 Ingredients
Regular oats/Quick-cooking oats

3⁄4 Cup (12 tbs)

(Uncooked)

Milk

1 1⁄2 Cup (24 tbs)

Eggs

2

, beaten

Melted shortening

1⁄4 Cup (4 tbs)

All purpose flour

1 1⁄4 Cup (20 tbs)

Sugar

2 Tablespoon

Baking powder

1 Tablespoon

Salt

1 Teaspoon
Nutrition Facts
Serving size: Complete recipe
Calories 1551 Calories from Fat 609
% Daily Value*
Total Fat 69 g105.7%
Saturated Fat 18.3 g91.7%
Trans Fat 0 g
Cholesterol 456.9 mg
Sodium 3408.6 mg142%
Total Carbohydrates 196 g65.2%
Dietary Fiber 7.2 g28.9%
Sugars 49.5 g
Protein 44 g88.8%
Vitamin A 55.5% Vitamin C 0.09%
Calcium 159.1% Iron 69.3%
*Based on a 2000 Calorie diet
Directions
GETTING READY
1) Mix together oats and milk and keep aside for 5 minutes.

MAKING
2) Beat in eggs and shortening to oat mixture and mix well.
3) Mix all the dry ingredients together.
4) Add this to oat mixture and stir just until mixed well.
5) Heat a griddle and pour about 1/4 cup batter on it for the pancake.
6) Cook the pancake till it have a bubbly surface and slightly dry edges.
7) When done toss it to cook the other side.
8) Repeat the same for other pancakes till all the batter is used up.

SERVING
9) Serve the pancakes with toppings or fillings like jam, chocolate chips, fruit, syrup or meat.
Image Courtesy :
http://www.flickr.com/photos/allaboutgeorge/5262311678/