»

Recipes

»

Cookie

»

Oatmeal Drop Cookies With Coconut Flakes
Oatmeal Drop Cookies with Coconut Flakes Recipe
These oatmeal drops are moist, almost cake like cookies and best of all a much healthier alternative to regular oatmeal cookies. No butter is used so it's ideal for those who are calorie conscious or for those on a vegan diet.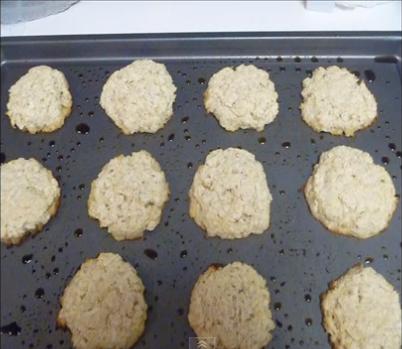 Ingredients
Brown sugar/Turbinado sugar

1⁄4 Cup (4 tbs)

Apple sauce

3⁄4 Cup (12 tbs)

(unsweetened)

Gluten free flour

1 Cup (16 tbs)

Rolled oats

1 Cup (16 tbs)

Baking powder

1 Teaspoon

Salt

1⁄2 Teaspoon

Coconut flakes

1⁄2 Cup (8 tbs)

Butter

1⁄2 Teaspoon

(for greasing baking tray)
Nutrition Facts
Serving size
Calories 332 Calories from Fat 39
% Daily Value*
Total Fat 5 g7.1%
Saturated Fat 3 g15.2%
Trans Fat 0 g
Cholesterol 0 mg
Sodium 504.7 mg21%
Total Carbohydrates 67 g22.4%
Dietary Fiber 3.8 g15.3%
Sugars 23.6 g
Protein 5 g9.5%
Vitamin A 0.1% Vitamin C 1.3%
Calcium 10.4% Iron 7%
*Based on a 2000 Calorie diet
Directions
GETTING READY
1. Preheat the oven to 375 degrees.
2. In a bowl mix applesauce and sugar.
3. Add in gluten free flour, rolled oats, baking powder, salt and coconut flakes.
4. Combine together and make a dough.
5. Grease a cookie sheet with butter.

MAKING
6. Drop spoonfuls of cookie dough onto the sheet.
7. Slightly flatten the cookies. Bake for 10 minutes on 375 degrees.

SERVING
8. Serve cookies with tea or coffee.