»

Recipes

»

Canadian

»

Vegan Oatcakes
Vegan Oatcakes Recipe
Oatcakes is a dish that you can add to your breakfast spread with confidence. Your children will love these yummy and Healthy Oatcakes! Try this Oatcakes recipe!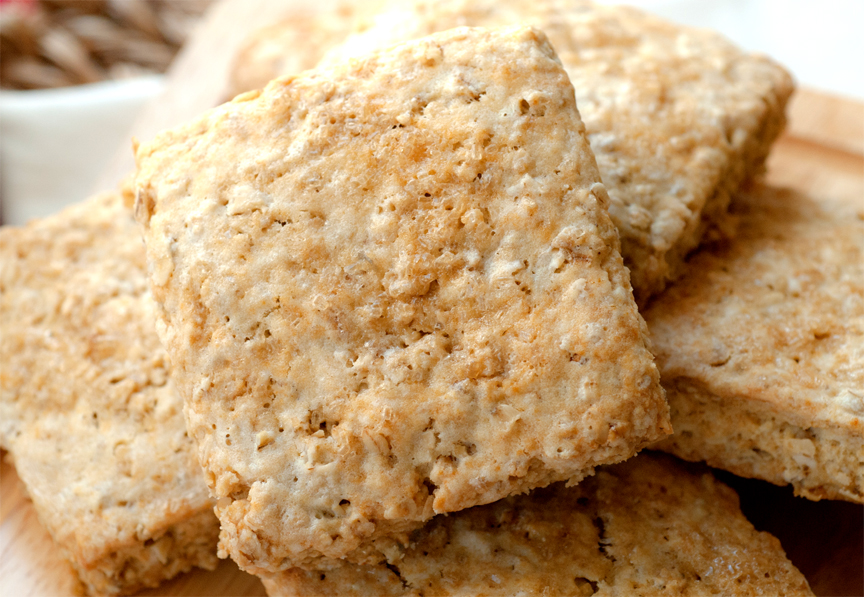 Ingredients
Oats

1 Cup (16 tbs)

, crushed (For Rolling)

Salt

1⁄2 Teaspoon

Hot water

1⁄2 Cup (8 tbs)
Nutrition Facts
Serving size: Complete recipe
Calories 576 Calories from Fat 85
% Daily Value*
Total Fat 10 g15.7%
Saturated Fat 1.8 g9%
Trans Fat 0 g
Cholesterol 0 mg
Sodium 977.9 mg40.7%
Total Carbohydrates 98 g32.7%
Dietary Fiber 15.7 g62.7%
Sugars 0 g
Protein 25 g50%
Vitamin A Vitamin C
Calcium 8.4% Iron 38.9%
*Based on a 2000 Calorie diet
Directions
Mix the oats and salt.
Add the hot water and bind together with a spoon. (At this stage the dough is very soft.)
Leave for 1 hour to steep.
Turn out onto a baking board that is generously scattered with crushed oats.
Dust more oats over the dough and roll out as thinly as possible.
If the dough tends to stick, add more and more oats during the rolling.
Cut into 4 quarters.
Put on an ungreased baking sheet and bake at 350° (turning from time to time to prevent steaming) for roughly 30 minutes, or until the cakes are crisp and lightly browned. Or cook on the griddle until the farls, or quarters, curl, then transfer to the oven to crisp.