»

Recipes

»

Sauce

»

Nut Pudding With Vanilla Sauce
Nut Pudding with Vanilla Sauce Recipe
Set your taste-buds reeling with delight with this enticingly delicious Nut Pudding with Vanilla Sauce . Also, you might find it hard to believe, how easy it is to make this Nut Pudding with Vanilla Sauce . So don't miss it!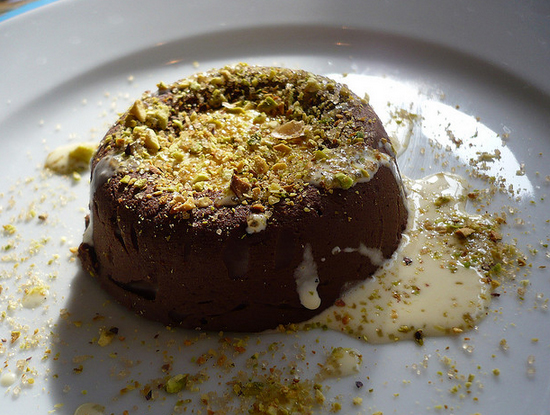 Ingredients
Margarine

1/4 pound

Sugar

1/2 Cup (16 tbs)

Drop of vanilla

Ginger

1 Teaspoon

Eggs

3 Small

All-purpose flour-1/4 cup

Cornstarch

1/8 Cup (16 tbs)

Cocoa

1 Ounce

Baking powder

2 1/2 Teaspoon

Milk

6 Tablespoon

Nuts

3 Tablespoon

Ladyfingers-to garnish
Directions
MAKING
1)In a bowl, beat together butter, add sugar, spices, eggs and beat until fluffy.
2)In another, sift together flour, cornstarch, cocoa and baking powder.
3)Blend into batter alternately with the milk.
4)Beat batter until smooth, add ground nuts
5)Take a greased pudding dish and pour the batter into it.
6)Put the dish in pan of boiling water and bake for one hour at 350 degrees. Remove.

SERVING
7)Take a serving platter and invert entire pudding on a serving platter. Garnish with ladyfingers. Serve.
Image Courtesy :
http://www.flickr.com/photos/dichohecho/3360531441/