»

Recipes

»

Roll

»

Delectable Cinnamon Rolls
Delectable Cinnamon Rolls Recipe
Delectable Cinnamon Rolls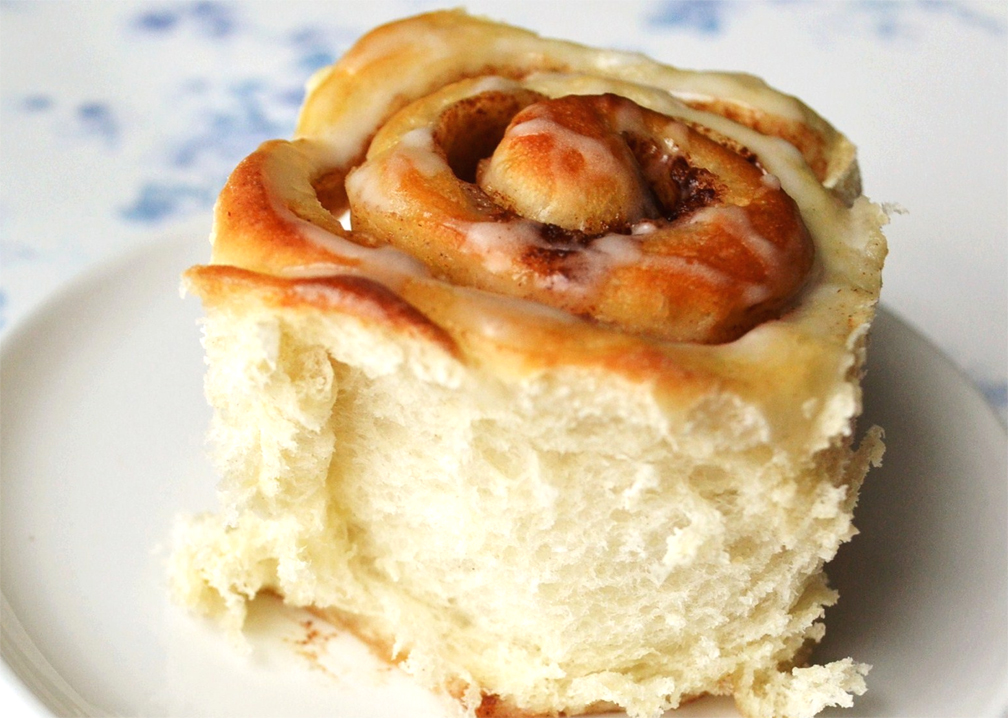 Ingredients
| | | |
| --- | --- | --- |
| | Flour | 4 1⁄2 Cup (72 tbs) |
| | Sugar | 1 5⁄8 Cup (26 tbs) |
| | Salt | 1 Teaspoon |
| | Margarine | 1⁄2 Cup (8 tbs) |
| | Milk | 1 Cup (16 tbs) |
| | Yeast | 4 1⁄2 Teaspoon |
| | Eggs | 3 |
| | Soft butter | 1⁄4 Cup (4 tbs) |
| | Cinnamon | 4 Teaspoon |
Nutrition Facts
Serving size
Calories 351 Calories from Fat 102
% Daily Value*
Total Fat 12 g17.7%
Saturated Fat 3.9 g19.4%
Trans Fat 0 g
Cholesterol 55.6 mg
Sodium 163.9 mg6.8%
Total Carbohydrates 56 g18.8%
Dietary Fiber 2 g7.9%
Sugars 24.3 g
Protein 6 g12.5%
Vitamin A 9% Vitamin C 0.11%
Calcium 4.6% Iron 12.4%
*Based on a 2000 Calorie diet
Directions
GETTING READY
1) Preheat oven to 350° F.

MAKING
2) Take a large bowl and sift 1/2 cup sugar, salt and flour in it.
3) Take a small saucepan and melt margarine in it. Stir in milk.
4) Keep mixture over low heat until lukewarm.
5) Take 1/2 cup warm milk and dissolve 2 tablespoons sugar in it.
6) Add flour mixture, milk mixture and eggs to it. Beat until mixture becomes turns into smooth and sticky dough.
7) Grease the dough and cover. Let rise in a warm place until double in bulk.
8) Punch the dough down and let rise until double in size.
9) Punch the down a second time and let rise again until double in bulk.
10) Divide the dough into 2 parts.
11) Roll each dough half into a rectangle and spread with 2 tablespoons butter.
12) Take a bowl and mix 2 teaspoons cinnamon with 1/2 cup sugar. Sprinkle the mixture over rectangles.
13) Roll the rectangles in jelly roll fashion and cut into 1 inch slices.
14) Take a greased 11 x 15-inch pan and place the strips in it.
15) Let rise for about 40 minutes.
16) Bake in the oven for about 25 minutes.
17) Transfer to a wire rack to cool completely.

SERVING
18) Serve the slices with maple syrup and whipped cream, if desired.