»

Recipes

»

Pancake

»

No-Flip Oven Pancake
No-Flip Oven Pancake Recipe
The no-flip oven pancake is an oven pancake recipe that needs no flipping or or turning whatsoever. Prepared with a batter of flour, eggs and milk, the oven pancake is baked to a brown and puffy finish. Drizzled with lemon juice and butter and topped with toasted amonds, teh oven pancake can be enjoyed fresh, for breakfast.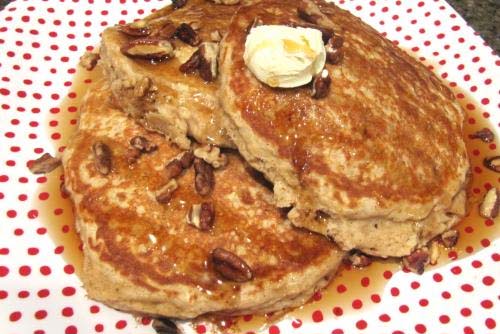 Ingredients
Eggs

3

All purpose flour

1⁄2 Cup (8 tbs)

Salt

1⁄4 Teaspoon

Milk

1⁄2 Cup (8 tbs)

Sugar

2 Tablespoon

Toasted sliced almonds

2 Tablespoon

Butter

1 Tablespoon

, melted

Lemon juice

1 Tablespoon
Nutrition Facts
Serving size
Calories 459 Calories from Fat 214
% Daily Value*
Total Fat 24 g36.3%
Saturated Fat 7.8 g39%
Trans Fat 0 g
Cholesterol 339 mg
Sodium 376.6 mg15.7%
Total Carbohydrates 46 g15.4%
Dietary Fiber 2.5 g9.8%
Sugars 19.3 g
Protein 18 g35.5%
Vitamin A 12.2% Vitamin C 5.7%
Calcium 14.3% Iron 18.8%
*Based on a 2000 Calorie diet
Directions
Beat eggs till well blended.
Slowly add flour, beating constantly.
Stir in salt, milk, and the 2 tablespoons melted butter.
Grease 10 inch skillet (handle must be removable or oven proof).
Pour batter into cool skillet.
Bake in a hot oven (400°) for 15 minutes or till pancake is browned and puffy.
Remove from oven; quickly sprinkle with the sugar and toasted almonds.
Combine the remaining tablespoon melted butter and the lemon juice; quickly drizzle over all.
Serve pancake immediately.