»

Recipes

»

Sauce

»

No Cook Tomato Sauce
No Cook Tomato Sauce Recipe
This No Cook Tomato Sauce is simply gorgeous ! I love oodles of this spicy tomato dip poured over my pasta, meat and bread dishes. Try this No Cook Tomato Sauce and let me know if you like it !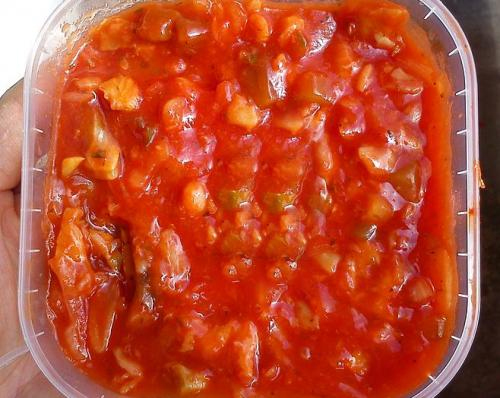 Ingredients
Ripe tomatoes

2 Pound

, cut into 1/2 inch pieces

Fresh mozzarella cheese

1⁄2 Pound

, cut into 1/2 inch pieces

Olive oil

2 Tablespoon

Red wine vinegar

1 Tablespoon

Salt

1 Teaspoon

Coarsely ground black pepper

1⁄4 Teaspoon

Packed basil leaves

1 Cup (16 tbs)

, cut into strips (Fresh)
Nutrition Facts
Serving size: Complete recipe
Calories 1121 Calories from Fat 728
% Daily Value*
Total Fat 83 g127.2%
Saturated Fat 34.2 g171.2%
Trans Fat 0 g
Cholesterol 179.2 mg
Sodium 3408.8 mg142%
Total Carbohydrates 42 g14%
Dietary Fiber 11.6 g46.4%
Sugars 26.3 g
Protein 59 g118.3%
Vitamin A 207.2% Vitamin C 199.8%
Calcium 128.6% Iron 26.8%
*Based on a 2000 Calorie diet
Directions
In medium bowl, combine tomatoes with their juice, mozzarella, basil, olive oil, vinegar, salt, and pepper, stirring gently to mix well.
Allow sauce to stand at room temperature at least 15 minutes or up to 1 hour to develop flavor.