»

Recipes

»

Sauce

»

No Cook Berry Sauce
No Cook Berry Sauce Recipe
This No Cook Berry Sauce is a novel spread that you simply cannot miss out on ! A delicious pureed blend of raspberries, blueberries, blackberries and strawberries, this sauce tastes incredible over cakes, puddings and ice cream. Try this No Cook Berry Sauce and let me know if you share my passion for it !
No Cook Berry Sauce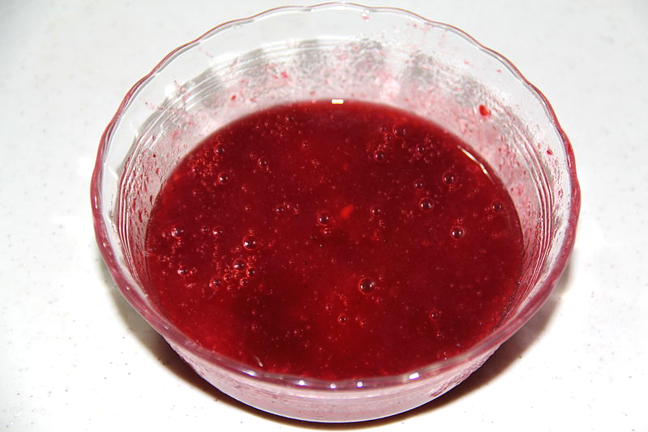 Ingredients
Strawberries/Blackberries/strawberries/blueberries

3 Cup (48 tbs)

Confectioner's sugar

2⁄3 Cup (10.67 tbs)

(Depending On Berries' Sweetness)

Fresh lemon juice/Lime juice

2 Teaspoon

(Otherwise To Taste)
Nutrition Facts
Serving size: Complete recipe
Calories 491 Calories from Fat 13
% Daily Value*
Total Fat 2 g2.4%
Saturated Fat 0.08 g0.39%
Trans Fat 0 g
Cholesterol 0 mg
Sodium 5.4 mg0.2%
Total Carbohydrates 121 g40.4%
Dietary Fiber 10.6 g42.3%
Sugars 103.3 g
Protein 4 g7.1%
Vitamin A 1.3% Vitamin C 523.4%
Calcium 8.5% Iron 12%
*Based on a 2000 Calorie diet
Directions
In food processor with knife blade attached, blend berries until pureed.
Sift 1/2 cup confectioners' sugar over berries; pulse until smooth.
Press berry mixture through medium mesh sieve to remove seeds.
Discard seeds.
Stir in 1 teaspoon lemon or lime juice.
Taste and adjust sugar and citrus juice.
Cover and refrigerate if not serving immediately.
Sauce will thicken upon standing; whisk just before serving if necessary.
Keep sauce refrigerated and use within 3 days.