»

Recipes

»

Eggnog

»

New Year's Eggnog
New Year's Eggnog Recipe
New Year's Eggnog brings a genuniely unique flavor of the eggs. I found this beverage simple and easy to prepare and at the same time the result was extremely tasty and filling. The New Year's Eggnog is clearly something we can easily prepare at home.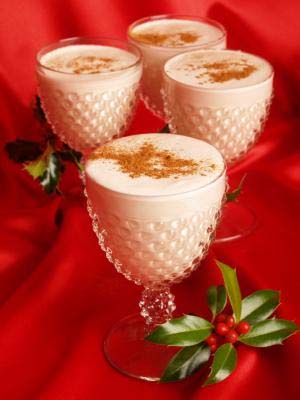 Ingredients
Egg yolks

6

1 cup fine sugar 250 mL

4 cups table cream 1 L

Whole milk

2 Cup (16 tbs)

Egg whites

3

Salt

1/4 Teaspoon

1 1/2 cups brandy, rum or rye 375 mL

Nutmeg
Directions
Beat egg yolks until very light and gradually add, still beating, fine sugar.
Add table cream, whole milk and stir to blend.
Chill for several hours.
At serving time, beat egg whites with salt until good peaks form.
Fold this into chilled mixture.
Add brandy, rum or rye—chilled beforehand, if possible.
Turn into punch bowl and grate a bit of nutmeg over top.