»

Recipes

»

Bean

»

Red Bean

»

New Orleans-Style Red Beans
New Orleans-Style Red Beans Recipe
Haven't been able to find a hit recipe yet? This New Orleans-style Red Beans recipe might be what you are looking for. A great Side Dish recipe is one like this. A good way to use up Beans is to make some irresistible New Orleans-style Red Beans. Don't miss this New Orleans-style Red Beans recipe!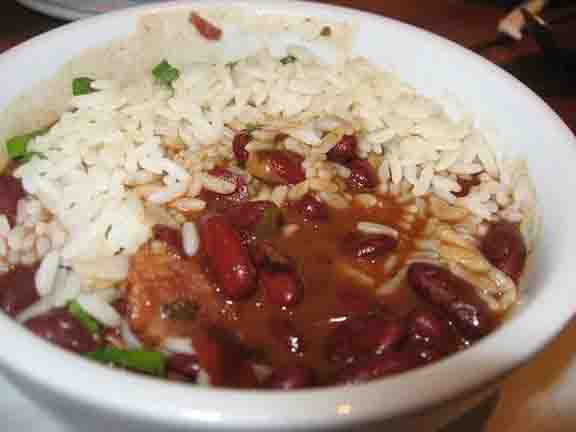 Ingredients
Dried red kidney beans

1 Pound

Hambone

1

Ham

1 Pound

, diced

Onion

1 Large

, chopped

Green pepper

1⁄2 Cup (8 tbs)

, chopped

Celery

1⁄2 Cup (8 tbs)

, chopped

Garlic

1 Clove (5 gm)

, chopped

Tomato paste

3 Tablespoon

Parsley

1 Tablespoon

, minced

Salt

To Taste

Pepper

To Taste
Nutrition Facts
Serving size
Calories 411 Calories from Fat 47
% Daily Value*
Total Fat 5 g8.2%
Saturated Fat 1.5 g7.5%
Trans Fat 0 g
Cholesterol 61 mg
Sodium 248.6 mg10.4%
Total Carbohydrates 54 g18%
Dietary Fiber 13.1 g52.6%
Sugars 5.2 g
Protein 38 g76%
Vitamin A 8.4% Vitamin C 36.7%
Calcium 10.2% Iron 34.7%
*Based on a 2000 Calorie diet
Directions
GETTING READY
1. Soak the beans overnight and then drain them just before cooknig

MAKING
2. In a large heavy kettle; add hambone, ham, onion, green pepper, celery, garlic, tomato paste, salt, pepper and parsley.
3. Simmer the beans separately. Pour in 2 quarts cold water; bring to a boil. Reduce heat; cover kettle. Simmer for 4 hours or until beans are tender.

SERVING
4. Serve over rice.