»

Recipes

»

Pancake

»

New Orleans Crepes
New Orleans Crepes Recipe
New Orleans crepes are really different from other crepe recipes. This recipe has cake flour, sugar lumps and orange juice and rind, which makes this dish taste new and different.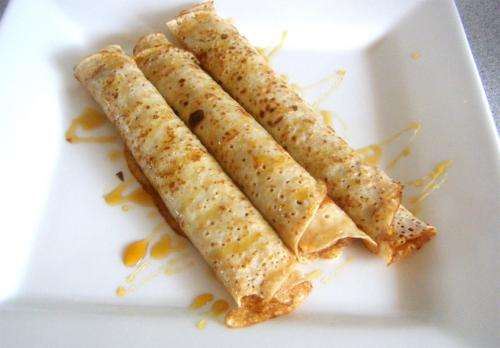 Ingredients
Eggs

2

Milk

1 1⁄2 Cup (24 tbs)

Grated lemon rind

1⁄2 Teaspoon

Salt

1⁄4 Teaspoon

Powdered sugar

1 Tablespoon

Cake flour

1 Cup (16 tbs)

Champagne

1 Cup (16 tbs)

Sugar

2 Cup (32 tbs)

Grated orange rind

1 Tablespoon

Butter

1⁄2 Cup (8 tbs)

, melted
Nutrition Facts
Serving size
Calories 437 Calories from Fat 127
% Daily Value*
Total Fat 14 g22.1%
Saturated Fat 8.4 g42%
Trans Fat 0 g
Cholesterol 87.3 mg
Sodium 96.6 mg4%
Total Carbohydrates 70 g23.3%
Dietary Fiber 2.2 g8.7%
Sugars 54.1 g
Protein 6 g11.3%
Vitamin A 9.3% Vitamin C 4.9%
Calcium 7.5% Iron 1.5%
*Based on a 2000 Calorie diet
Directions
MAKING
1)In a bowl, beat eggs until light and lemon colored.
2)Slowly add milk, lemon rind and salt gradually.
3)In another bowl, sift powdered sugar with flour and mix it with milk mixture gradually.
4)Take hot greased grill and drop large tablespoon batter and spread it.
5)Bake until golden brown on underside, flip and brown it.
6)In a chafing dish, pour champagne and heat.
7)Crush lumps of sugar in orange juice and mix it into champagne.
8)Add orange rind and butter. Cover and cook until thick.
9)Dip crepes into sauce and roll like jelly roll.

SERVING
10)Sprinkle some powdered sugar and serve immediately.