»

Recipes

»

Cocktail

»

New Year's Day Hoppin' John
New Year's Day Hoppin' John Recipe
Hoping for a successful New Year? Start the year off right with a delicious bowl of Hoppin' John. Hoppin' John is a traditional southern dish of black-eyed peas, rice, and greens believed to bring prosperity and luck for the year ahead. The black-eyed peas are believed to symbolize coins and the greens (mustard, turnip, or collards) also symbolize wealth as money is also green. For a scrumptious vegetarian main dish, omit the ham.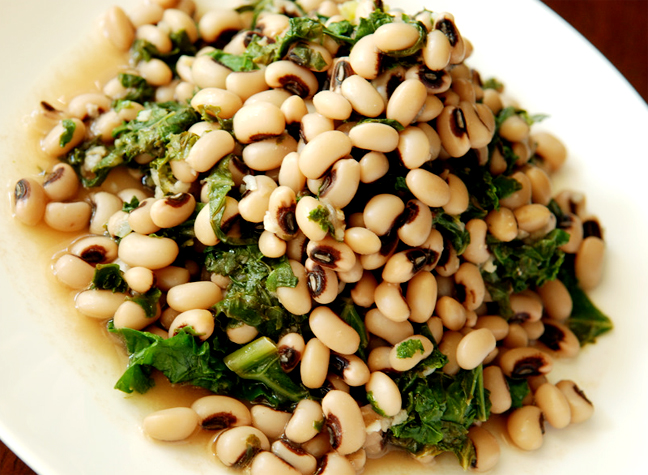 Ingredients
Water

2 Cup (16 tbs)

Dijon Mustard

2 Tablespoon

Salt

1 Teaspoon

Thyme

1/2 Teaspoon

, dried

Extra virgin olive oil

2 Tablespoon

Onion

3 Cup (16 tbs)

, chopped

1 cup long-grain white rice, uncooked

2/3 cup ham, fully cooked and diced

Garlic

4 Clove (5gm)

, minced

4 cups canned black-eyed peas

4 cups mustard or collard greens, chopped and trimmed
Directions
In a small bowl, whisk together the water, mustard, salt and thyme. Put to one side. Next, in a Dutch oven, heat the olive oil over medium-high heat. Sauté the onion in the olive oil until tender, about five minutes. Add rice, ham, and garlic and sauté about two minutes. Stir in water mixture that was set aside earlier. Bring to a complete boil. Reduce heat, cover, and simmer for fifteen minutes.
Then, add the black-eyed peas and greens. Replace the cover and cook about five minutes. Stir rice mixture and continue cooking, covered, about 5 more minutes. Greens and rice should be tender. Serves 6.
Recipe Courtesy:
HolidaysCentral.Com
. HolidaysCentral.com is the year round destination for recipes, traditions, decorating, crafts and activities all centered on Holidays and Seasonal themes.