»

Recipes

»

European

»

English

»

New England Clam Chowder
New England Clam Chowder Recipe
New England Clam Chowder is an irresistible recipe that you simply can't resist. Try this New England Clam Chowder; I am sure you will have a huge fan following for this one!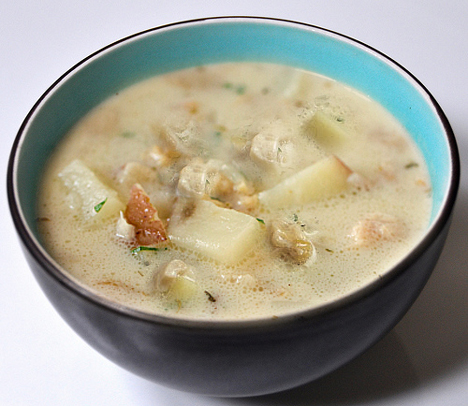 Ingredients
Diced salt pork

4 Tablespoon

Onion

1 Medium

, chopped

All purpose flour

2 Tablespoon

Clam juice

2 Cup (32 tbs)

, strained

Potato

1 Medium

, peeled and diced

Dried thyme

1 Pinch

Milk

1 Cup (16 tbs)

Chopped clams

1 Cup (16 tbs)

Butter

1 Tablespoon

Crackers

1⁄2 Cup (8 tbs)

(Pilot)

Salt

To Taste

Freshly ground black pepper

To Taste
Nutrition Facts
Serving size: Complete recipe
Calories 1623 Calories from Fat 684
% Daily Value*
Total Fat 78 g119.7%
Saturated Fat 34.4 g171.9%
Trans Fat 0 g
Cholesterol 126.9 mg
Sodium 5645.5 mg235.2%
Total Carbohydrates 178 g59.4%
Dietary Fiber 8.6 g34.5%
Sugars 22.1 g
Protein 54 g108.9%
Vitamin A 21.7% Vitamin C 83.1%
Calcium 61.9% Iron 96.7%
*Based on a 2000 Calorie diet
Directions
Slowly cook salt pork in a 1 1/2 quart saucepan until pieces are crisp.
Remove salt pork and reserve.
Add onion to drippings in saucepan and cook, stirring, until tender but not browned.
Stir in flour, then add clam juice.
Add potato and thyme.
Bring to a boil, cover and simmer 15 minutes, or until potatoes are tender.
Stir in milk and reheat, but do not let boil.
Add clams and reheat, but do not let boil.
Taste; add salt and pepper as needed.
Ladle clam chowder into bowls, top each with a pat of butter and sprinkle with reserved salt pork pieces.