»

Recipes

»

Asian

»

Naan
Naan Recipe
Naan is a part of breads menu in Indian cooking.Naan is a kind of roti but is quite unlike it.Naan is a flat,round bread made with milk,salt & yeast or baking powder.Naan is served hot with dripping ghee or butter on it makes a great accompaniment for Indian cooking.Naan is extensively used in Punjabi,Mughlai,Rajasthani cooking.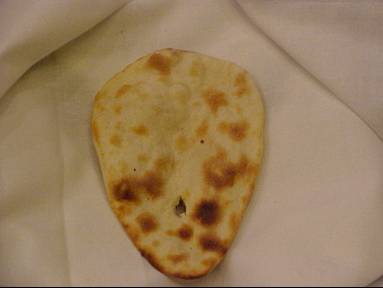 Ingredients
Maida

1000 Gram

Baking powder

3 Gram

Salt

To Taste

Oil

25 Gram

Egg

2 Large

Milk

155 Milliliter

Kalonji

3

(3 seeds)

Ghee/Butter

1 Teaspoon

(For greasing)
Nutrition Facts
Serving size: Complete recipe
Calories 4099 Calories from Fat 438
% Daily Value*
Total Fat 50 g76.6%
Saturated Fat 10.8 g54%
Trans Fat 0 g
Cholesterol 438.5 mg
Sodium 846.3 mg35.3%
Total Carbohydrates 773 g257.6%
Dietary Fiber 27 g108%
Sugars 11.6 g
Protein 121 g241.7%
Vitamin A 12.9% Vitamin C
Calcium 59.9% Iron 270.1%
*Based on a 2000 Calorie diet
Directions
1-Mix maida and baking powder.
2-Beat eggs, milk,salt,together and add to maida.
3-Make dough by adding water.
4-Divide dough into small portion, roll out round,flat portions,sprinkle Kalongi on top, and cook in tandoor.
5-Serve it hot brushing good portion of ghee or butter on top.