»

Recipes

»

Indian

»

Punjabi

»

Naan
Naan Recipe
Are you looking for simple way to make Naan? This recipe is prerfect for you. This is a traditional Naan recipe from Punjabi Cuisine. Naan is the most popular Indian bread. It is included as a main dish in Indian lunch and dinner menu . Naan goes well with any Indian Curry .Cook, share and enjoy this Naan recipe.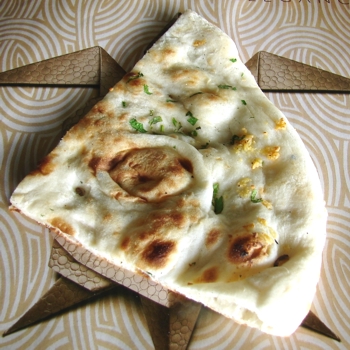 Ingredients
All purpose flour

3 Cup (16 tbs)

Instant yeast

10 Gram

Water

180 Milliliter

Yoghurt

1/4 Cup (16 tbs)

Sugar

2 Teaspoon

Egg

1

, beaten

Salt

2 Teaspoon

¼ cup melted ghee or butter

Extra melted ghee or butter
Directions
Pour flour in a large basin. Make a well in the flour.
Combine all the ingredients A together and pout into the flour.
Slowly combine flour and mixture together till it forms a dough. Knead well. Mix in the ghee and salt. Knead until dough is smooth and elastic. Roll into a ball.
Cover and allow to rest for half an hour in a warm place or until it has doubled in volume. Punch down.
Divide into 8-12 portions. Roll into a ball and leave to rest for another 10-15 mins.
Preheat a flat bottom pan. Press or roll each portion of dough into rounds and brush with ghee or butter. Gently fry on one side until it puffs up, then flip over to fry the other side. Serve hot with curries.