»

Recipes
Mustard Vinaigrette Recipe
This tasty Mustard Vinaigrettes is my favorite salad dressing! I prepare this tasty Mustard Vinaigrette to pep up my otheriwse mundane salads. The sexty flavors of this wonderful Mustard Vinaigretteis sure to get you hooked to it also!!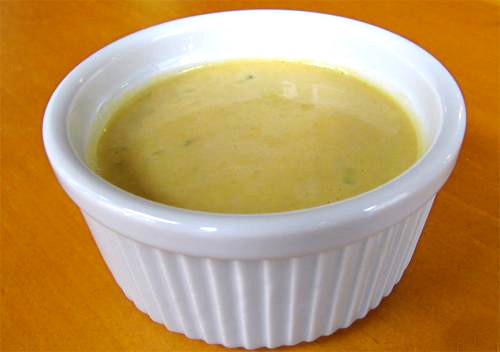 Ingredients
Dijon Mustard

2 Tablespoon

1-2 cloves garlic, minced very fine or crushed

Lemon juice

4 Tablespoon

3/4 cup olive or vegetable oil, or a combination of both

Flat leaf parsley

2 Tablespoon

, chopped

Ground black pepper

1 To taste

Salt

To Taste
Directions
Place the dijon mustard in a small bowl.
Add the garlic and lemon juice, and stir to blend well.
Slowly add the oil in a steady stream, whisking continuously to form an emulsion.
Stir in the parsley, salt, and pepper, and taste to adjust the seasonings.