»

Recipes

»

Sauce
Mustard Sauce Recipe
Try out the easy-to-make Mustard Sauce recipe. Enjoy the Mustard Sauce at any party and let us know how you liked it!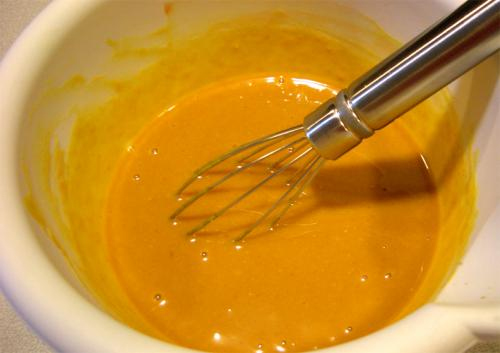 Ingredients
Dry mustard

2 Tablespoon

Butter

1 Tablespoon

Cornstarch

1 Teaspoon

Egg

1

, beaten

Whipping cream

1⁄2 Cup (8 tbs)

Sugar

2 Tablespoon

Water

2 Tablespoon

White wine vinegar

2 Tablespoon
Nutrition Facts
Serving size: Complete recipe
Calories 784 Calories from Fat 510
% Daily Value*
Total Fat 59 g90.9%
Saturated Fat 35.8 g178.8%
Trans Fat 0 g
Cholesterol 409.4 mg
Sodium 107.8 mg4.5%
Total Carbohydrates 43 g14.3%
Dietary Fiber 0.44 g1.8%
Sugars 37 g
Protein 8 g16.5%
Vitamin A 12.4% Vitamin C 0.58%
Calcium 11.2% Iron 9.3%
*Based on a 2000 Calorie diet
Directions
Mix together in a small saucepan the dry mustard, sugar, water, and vinegar.
Add the butter and cornstarch.
Stirring constantly, cook until sauce comes to a full rolling boil and is thick and clear.
Stir sauce into the beaten egg, return to pan, and cook, stirring constantly, 2 or 3 minutes longer, until thick do not let boil.
Chill.