»

Recipes

»

Mustard

»

Mustard Glazed Salmon
Mustard Glazed Salmon Recipe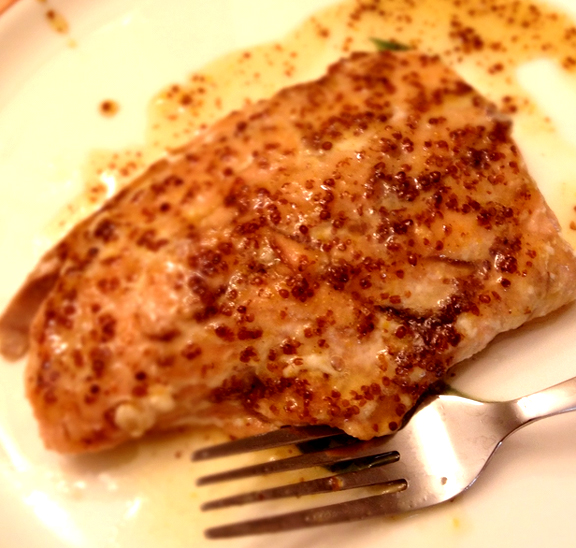 Ingredients
Olive oil

1 Tablespoon

Minced garlic

4 Tablespoon

Whole grain dijon mustard

1⁄3 Cup (5.33 tbs)

Dry white wine

1⁄4 Cup (4 tbs)

Lemon juice

1 Tablespoon

Salmon fillet

2 Pound

, cut into 8 pieces (1 Piece)

Olive oil

1 Tablespoon

(Additional)

Salt

To Taste

Freshly ground pepper

To Taste

Lemon wedges

3

(For Garnish)
Nutrition Facts
Serving size: Complete recipe
Calories 1521 Calories from Fat 584
% Daily Value*
Total Fat 65 g100.6%
Saturated Fat 9.5 g47.5%
Trans Fat 0 g
Cholesterol 471.7 mg
Sodium 1011.2 mg42.1%
Total Carbohydrates 28 g9.4%
Dietary Fiber 3.8 g15%
Sugars 1.5 g
Protein 188 g375.5%
Vitamin A 21.6% Vitamin C 69.6%
Calcium 25.1% Iron 48.8%
*Based on a 2000 Calorie diet
Directions
Preheat the broiler.
In a small saucepan over low heat, heat the oil and saute the garlic in it until soft.
Stir in the mustard, wine, and lemon juice until well combined.
Remove from the heat.
Arrange the salmon on an oiled broiler pan and rub lightly with olive oil.
Season with salt and pepper.
Broil for 2 minutes.
Remove from the oven and brush the mustard mixture evenly over the salmon.
Return to the oven and broil until the salmon is golden brown and cooked through, about 5 minutes.