»

Recipes

»

Mushroom

»

Mushrooms Chilli
Mushrooms Chilli Recipe
Would you like to try authentic Mushrooms Chilli at home? This recipe is just the way it is prepared in Indian homes. Mushrooms Chilli is a very delicious Indian dish. This recipe is a good option for holiday cooking. I cook this recipe every Sunday for lunch . Cook, share and enjoy this Mushrooms Chilli Recipe.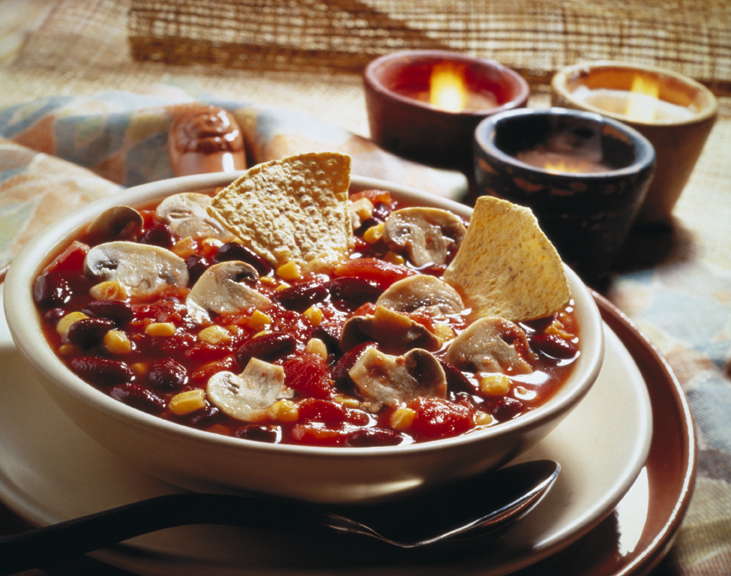 Ingredients
Mushrooms

400 Gram

Capsicums

200 Gram

Ginger

1

(2 Cm)

Garlic flakes

6

Onions

2 Medium

Oil

5 Tablespoon

Chilli powder

1 Teaspoon

Dark soy sauce

2 Teaspoon

Vinegar

2 Teaspoon

Corn flour

1 Tablespoon

Water

1 Cup (16 tbs)

Salt

To Taste
Directions
Cut mushrooms into halves.
Drain and keep aside. Grind onion, ginger and garlic to a paste.
Cut capsicums into halves, remove the seeds and cut into thin strips.
Heat 4 Tbsp of oil. Fry the ground paste.
Add chilli powder and ¼ cup water. Simmer till almost dry.
Add capsicums and mush roooms. Add salt.
Cover and cook on low flame till vegetables are tender crisp.
Add soya sauce, vinegar. Mix corn flour with water and add.
Bring to a boil, simmer for 1 minute. Serve hot with noodles or fried rice.
Use A combination of green and red capsicums to enhance the flavour and colour.

I am confused as the photo is of a bean-corn-tomato-mushroom salsa-type dish with tortilla chips i.e. Southwestern dish. However, the recipe sounds good. Shanti/Mary-Anne
Posted on:
7 January 2008 - 5:26pm

Good recipe. The picture looks very appetizing.
Posted on:
7 January 2008 - 4:33pm

this is chillious recipe......Whenever my friends party or celebrate, they include mushroom chilli in the menu.
Posted on:
7 January 2008 - 10:52am