»

Recipes

»

Sauce

»

Mushroom Onion Sauce
Mushroom Onion Sauce Recipe
If mushroom sauce with onions were to be described in a few words, they are heavenly, superb and outstanding. A lip-smacking side dish, this mushroom sauce with onions completes your spread. Enjoy this dish with your kin and friends and get back to me with all that they have said.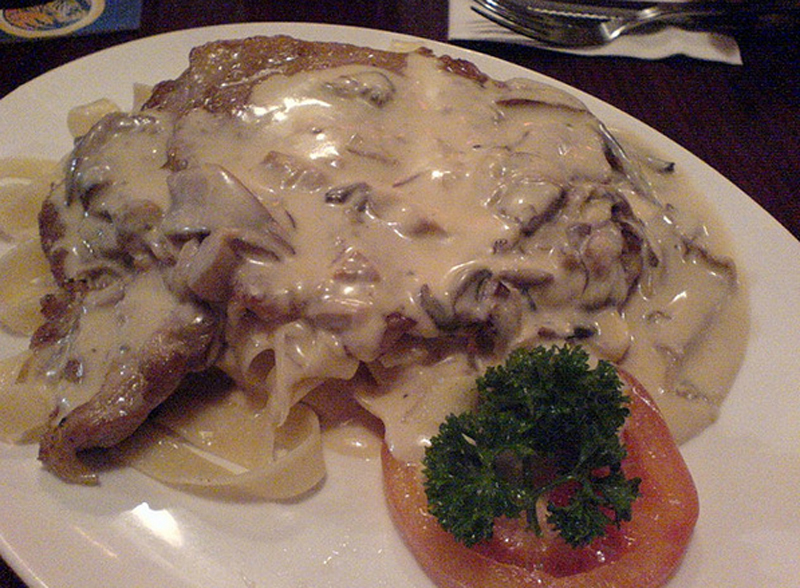 Ingredients
Mushrooms

3⁄4 Pound

, sliced (peeled)

Flour

2 Tablespoon

Onion

1 Large

, chopped (peeled)

Oil/Butter

2 Tablespoon

Vegetable stock

1 1⁄2 Cup (24 tbs)

Salt

To Taste

Cream

3 Tablespoon

Lemon juice

1 Tablespoon
Nutrition Facts
Serving size
Calories 379 Calories from Fat 149
% Daily Value*
Total Fat 17 g25.7%
Saturated Fat 2.9 g14.5%
Trans Fat 0 g
Cholesterol 1.6 mg
Sodium 588.8 mg24.5%
Total Carbohydrates 51 g17%
Dietary Fiber 5.8 g23.4%
Sugars 17.6 g
Protein 9 g18.7%
Vitamin A 0.9% Vitamin C 30.9%
Calcium 9.2% Iron 10.4%
*Based on a 2000 Calorie diet
Directions
MAKING
1. In a pan, heat oil or butter.
2. Add onions and sauté.
3. Add mushrooms and sauté together for 10 minutes.
4. Add flour and cook for a few minutes.
5. Add stock, salt and lemon juice and ensure that you keep stirring continuously.
6. Continue cooking for 10 minutes. Remove from flame. Add cream.

SERVING
7. Serve mushroom onions sauce with hot snacks.
Image Courtesy :
http://www.flickr.com/photos/junhao/393148065/