»

Recipes

»

Pilaf

»

Mushroom Rice Pilaf
Mushroom Rice Pilaf Recipe
Mushroom Rice Pilaf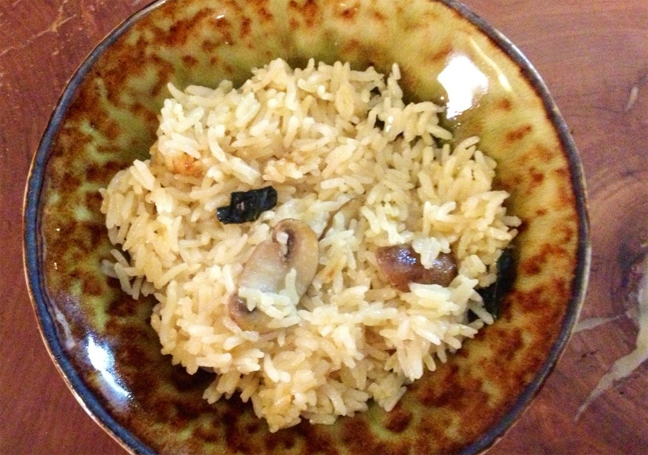 Ingredients
Butter/Margarine

1⁄4 Cup (4 tbs)

Converted white rice

1 1⁄2 Cup (24 tbs)

Chicken bouillon cubes

2

, crumbled

Salt

3⁄4 Teaspoon

Pepper

1⁄4 Teaspoon

Mushroom

1 Cup (16 tbs)

, chopped

Boiling water

1⁄2 Cup (8 tbs)

Parsley

1 Tablespoon

, chopped
Nutrition Facts
Serving size
Calories 240 Calories from Fat 101
% Daily Value*
Total Fat 12 g17.7%
Saturated Fat 7.2 g36.2%
Trans Fat 0 g
Cholesterol 30.2 mg
Sodium 837.4 mg34.9%
Total Carbohydrates 30 g10%
Dietary Fiber 0.37 g1.5%
Sugars 0.4 g
Protein 4 g8.1%
Vitamin A 13.4% Vitamin C 9.2%
Calcium 11% Iron 10.5%
*Based on a 2000 Calorie diet
Directions
GETTING READY
1. Preheat oven to 375 F.
2. In flameproof casserole melt butter, add rice and saute, stirring, until lightly browned about 10 minutes.
3. Add bouillon cubes, salt, pepper, mushroom and boiling water and mix well.
4. Bake, tightly covered, 40 minutes until rice is tender and liquid is absorbed.

FINALIZING
5. Fluff up pilaf with a fork and turn out on serving platter.

SERVING
6. Sprinkle with the chopped parsley and serve.