»

Recipes

»

Indian

»

Pulao

»

Mushroom Pulao
mushroom pulao Recipe
My friend, who is a professional chef at a famous five star hotel, gave me this mushroom pulao recipe. Mushroom Pulao is a delicious Indian pulao .It is a very popular wedding dish in India. It is included as a main dish in Indian lunch and dinner menu . It goes well with paneer pasanda , but it can also be eaten with any Indian curry . You should try this mushroom pulao recipe.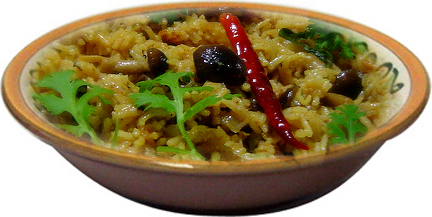 Ingredients
Basmati rice

400 Gram

Onion

150 Gram

Mushroom

100 Gram

Coriander powder

20 Gram

Red chilli powder

10 Gram

Cumin seeds

5 Gram

Salt

To Taste

8.soya refind oil 30ml

Nuggets

150 Gram

Green peas

60 Gram

Ginger paste

10 Gram

12.garam masala 10 gms

13.turmeric powder 5 gms

14.water 4 cups
Directions
1.Wash rice and soak for an hour.
2.Drained the water just before cooking.
3.Soak the nuggets in warm water till they soften.
4.Chop onion,cut the mushroom and ginger to thin slices.
5.Heat soya refind oil in a thick bottomed pan.
6.Add cumin seeds,ginger ,mushroom and onion allowing enough time for indivisual ingredients to turned brown.
7.Add onions ,mushroom till they turn pink
mix some rice and fry for two- three minutes.
8.Add salt and the remaining spices except garam masala.
9.Add nuggets and peas.Fry for two minutes .
10. Add water and bring to boil.Lower heat to medium low,stirthe pulao and cover them.
11.IT will take 10-15 minute to cook.
12.Add garam masala.
13.Surved with seasoned curd and pickle.