»

Recipes

»

Pizza

»

Mushroom Broccoli Pizza
Mushroom Broccoli Pizza Recipe
I enjoy with Mushroom Broccoli Pizza.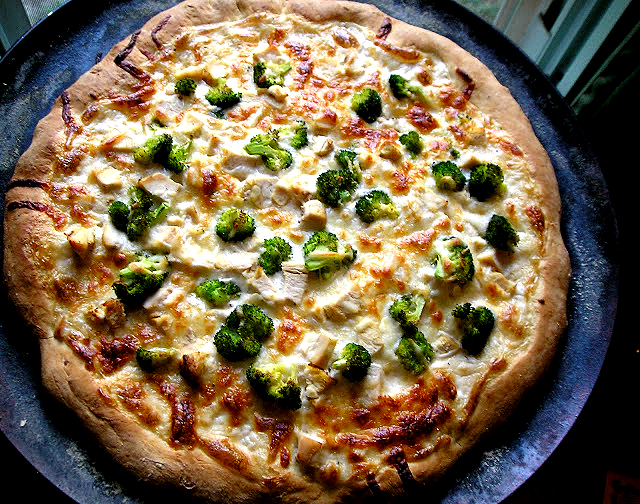 Ingredients
Active dry yeast

1⁄4 Ounce

Warm water

3⁄4 Cup (12 tbs)

(110 degrees F to 115 degrees F)

Sugar

1⁄2 Teaspoon

Whole wheat flour

1⁄2 Cup (8 tbs)

Salt

1⁄2 Teaspoon

All purpose flour

1 1⁄2 Cup (24 tbs)

All-purpose flour

1 1⁄2 Cup (24 tbs)

Broccoli florets

3 Cup (48 tbs)

Sliced mushrooms

1 Cup (16 tbs)

(fresh)

Chopped onion

1⁄4 Cup (4 tbs)

Garlic

4 Clove (20 gm)

, minced

Olive oil

1 Tablespoon

Pizza sauce

1⁄2 Cup (8 tbs)

Plum tomatoes

4

, sliced lengthwise

Chopped basil

1⁄4 Cup (4 tbs)

(fresh)

Shredded part skim mozzarella cheese

1 1⁄2 Cup (24 tbs)

Shredded parmesan cheese

1⁄3 Cup (5.33 tbs)
Nutrition Facts
Serving size
Calories 620 Calories from Fat 162
% Daily Value*
Total Fat 19 g28.5%
Saturated Fat 9.4 g47%
Trans Fat 0 g
Cholesterol 53.6 mg
Sodium 816.6 mg34%
Total Carbohydrates 80 g26.8%
Dietary Fiber 4.8 g19.1%
Sugars 2.1 g
Protein 35 g69.5%
Vitamin A 78.7% Vitamin C 175%
Calcium 73.8% Iron 32.4%
*Based on a 2000 Calorie diet
Directions
1. In a bowl, dissolve yeast in warm water. Add oil and sugar; mix well. Combine whole wheat flour and salt; stir into yeast mixture until smooth. Stir in enough all-purpose flour to form a soft dough.

2. Turn onto a floured surface; knead until smooth and elastic, about 6-8 minutes. Place in a bowl coated with nonstick cooking spray, turning once to coat top. Cover and let rise in a warm place until doubled, about 1-1/2 hours.

3. Punch dough down. Press onto the bottom and 1 in. up the sides of a 12-in. pizza pan coated with nonstick cooking spray. Prick dough several times with a fork. Bake at 425 degrees F for 6-8 minutes.

4. Place broccoli in a steamer basket; place in a saucepan over 1 in. of water. Bring to a boil; cover and steam for 5-6 minutes or until crisp-tender. Transfer broccoli to a colander. Rinse with cold water; drain and set aside.

5. In a nonstick skillet, saute mushrooms, onion and garlic in oil until mushrooms are tender. Spread pizza sauce over crust. Top with mushroom mixture, tomatoes, broccoli, basil and cheeses. Bake at 425 degrees F for 12-14 minutes or until crust is golden and cheese is melted.