»

Recipes

»

Others

»

Others14

»

Mushroom Ravioli With Prawns
Mushroom Ravioli with Prawns Recipe
"This is a sinfully rich pasta with Portobello mushrooms, prawns and capers in a white wine, butter and garlic sauce."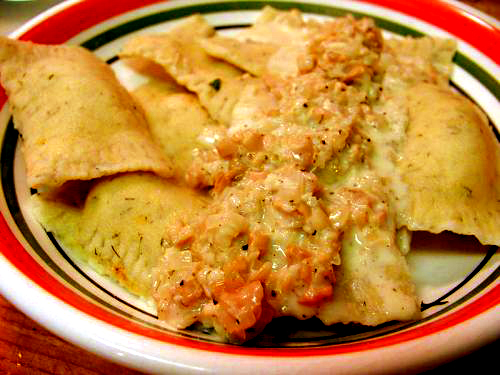 Ingredients
Prawns

20 Large

(peeled and deveined)

Prepared fresh cheese ravioli

12 Ounce

Portobello mushrooms

7 Large

, sliced

Garlic

3 Clove (15 gm)

, minced

Capers

3 Tablespoon

Butter

3⁄8 Cup (6 tbs)

White wine

5 Ounce

Olive oil

2 Tablespoon

Freshly ground black pepper

To Taste

Grated parmesan cheese

2 Tablespoon

Lemon

1⁄2

, juiced
Nutrition Facts
Serving size
Calories 1222 Calories from Fat 292
% Daily Value*
Total Fat 40 g61.5%
Saturated Fat 16.2 g81.1%
Trans Fat 0 g
Cholesterol 98.7 mg32.9%
Sodium 500 mg20.8%
Total Carbohydrates 51 g17.2%
Dietary Fiber 6.4 g25.4%
Sugars 6.3 g
Protein 157 g313.7%
Vitamin A 14.7% Vitamin C 12%
Calcium 33.6% Iron 20.9%
*Based on a 2000 Calorie diet
Directions
1. Have a stock pot of water near boiling before starting the sauce for this recipe! If you're fast at making the sauce, throw in ravioli when you begin to make the sauce. If not, cook ravioli according to package directions.

2. In a large saucepan, melt 1/4 cup of butter or margarine over a medium heat. Saute garlic for 1 to 2 minutes. Stir in olive oil and capers. Add 4 ounces of white wine and prawns, and bring to a boil.

3. Reduce heat and simmer for 2 to 3 minutes, letting wine reduce. Stir in sliced mushrooms, and additional butter and wine so that the sauce is thick, but still liquid after 2 to 3 minutes. Stir in lemon juice, and add fresh pepper to taste.

4. To serve, place raviolis on 4 plates, then place 5 to 6 prawns on each plate. Evenly distribute the remaining sauce between the four plates, and garnish with lots of freshly grated parmesan cheese!