»

Recipes

»

French

»

Bisque
Mushroom Bisque Recipe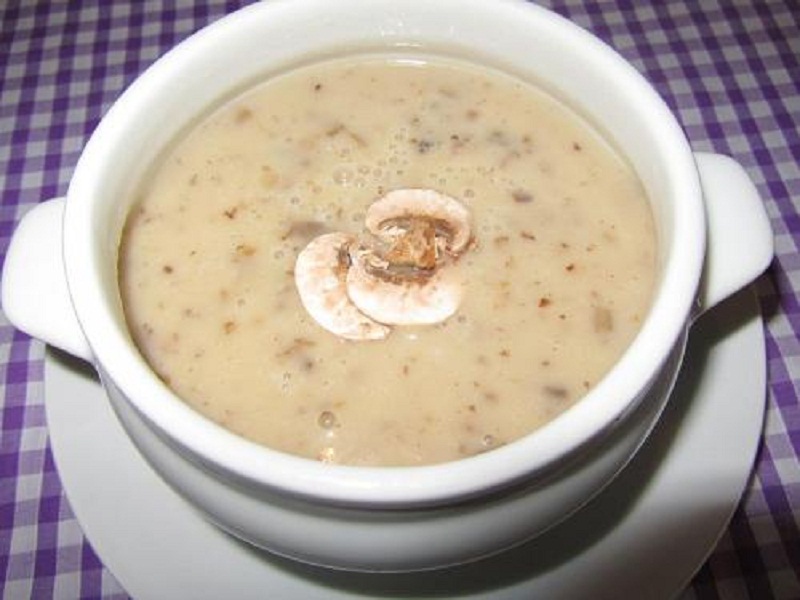 Ingredients
Fresh mushrooms

1 Pound

Chicken broth

1 Quart

Onion

1 Medium

, chopped

Butter

7 Tablespoon

Flour

6 Tablespoon

Milk

3 Cup (48 tbs)

Heavy cream

1 Cup (16 tbs)

Salt

1 Teaspoon

White pepper

To Taste

Tabasco sauce

To Taste

Sherry

2 Tablespoon

(Optional)
Nutrition Facts
Serving size
Calories 321 Calories from Fat 219
% Daily Value*
Total Fat 25 g38.2%
Saturated Fat 15.3 g76.4%
Trans Fat 0 g
Cholesterol 77.8 mg
Sodium 615.4 mg25.6%
Total Carbohydrates 19 g6.4%
Dietary Fiber 1.3 g5.4%
Sugars 7.1 g
Protein 7 g14.4%
Vitamin A 17.2% Vitamin C 5.5%
Calcium 12.8% Iron 5.1%
*Based on a 2000 Calorie diet
Directions
Wash the mushrooms and cut off stems.
Slice 6 caps and reserve.
Discard dried ends from the stems.
Grind or chop the remaining caps and stems very fine.
Simmer, covered, in the broth with the onion thirty minutes.
Saute the reserved sliced caps in 1 Tbsp butter and reserve for garnish.
Melt the remaining butter in a saucepan, add the flour and stir with a wire whisk until blended.
Meanwhile bring the milk to a boil and add all at once to the butter-flour mixture, stirring vigorously with the whisk until the sauce is thickened and smooth.
Add the cream.
Combine the mushroom-broth mixture with the sauce and season to taste with salt, pepper and tabasco sauce.
Reheat and add the sherry before serving.
Garnish with sauteed sliced mushrooms.